Arty shells not splashing off destroyed ve...
I was using my GWE on a game of hills. I hit a destroyed Tiger 2 with a T54 hiding literally right next to it, expecting to knock off the last 5 hp of the 54. instead, no damage or indication of a hit was registered. The shell has a 7m splash radus and should have killed that tank being less than 2m away from the explosion.
<- shot in the air, shown center of screen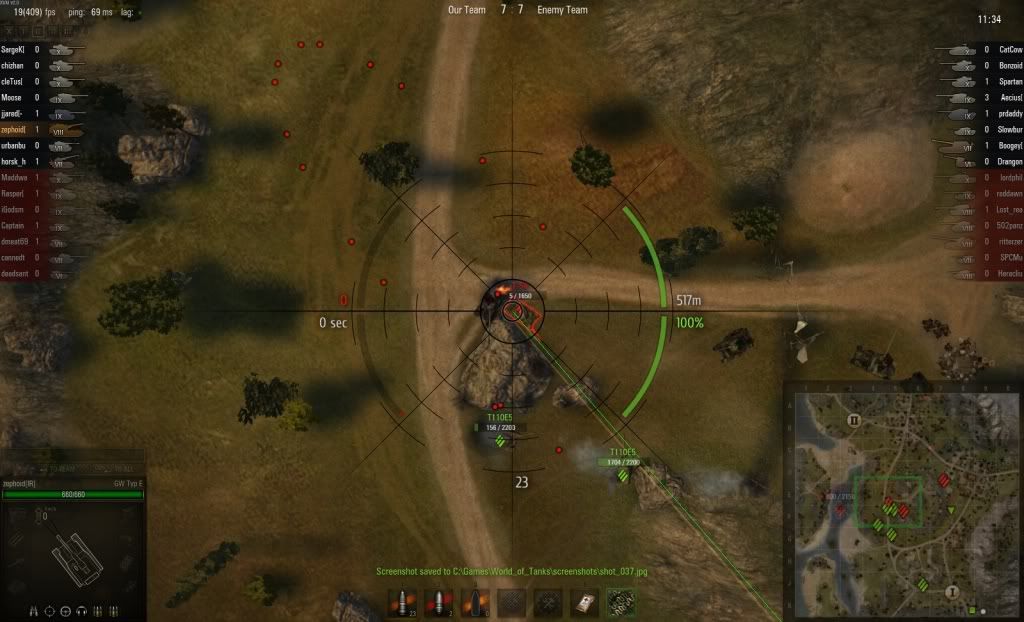 <- trajectory is over the 54, shot has not exploded yet
<- actual impact, initial explosion radius suggests the tank should have been damaged just from this screenshot
Edited by zephoid, May 07 2012 - 00:05.
ikr, I've always wondered about that...

BTW, needs smaller pics.
im a big arty fan idknow what that is but maybe its because it depends on the type of map or the level of floor???
the pics are thumbnails, you can click on them to maximize. didnt want to post 3 massive pictures, makes it hard to put comment text.

what do you mean type of map or floor level? idk how those relate to this topic.
Just shot at a Lowe parked touching the wreck of a GWP, with my S-51. Went a hair wide, slammed an HE shell into the GWP wreck. Despite being IN PHYSICAL CONTACT with the wreck, maybe 2 feet away from the impact point... No splash damage to the Lowe at all. Didn't even register as being a near miss.
Have noticed this as well in my T92, which is supposed to be a huge splash radius. If I hit a wreck with a tank right next to it, it does 0 damage to the tank. Had the shell hit the ground rather than a wreck at the same spot, it would have done a great deal of damage. Or small rocks for that matter. I've hit the front of a rock with an enemy behind it and still did 10% damage to him. But a wrecked tank that's a quarter the size? 0 damage.
Good, its not just me that noticed this. Now we just have to get the devs to notice this also.
Noticed exactly the same thing yesterday. KV4 hiding behind dead Patton, I hit the top of the patton´s turret, 0 dmg to KV-4. This is especially annoying with tanks capping, hidding behind dead tanks.