Now that the PZ4 has taken a big hit in the gun and other places one has to look to finding another nice tank to fill the gap. Now you can get the T-25 premium tank at anytime from the store or even on sale with free gold at times from the gift shop. It was my first purchase with premium gold when I got the game before I realized what premium did. I still run my T-25 every day.
Lets take a good look at the German T-25!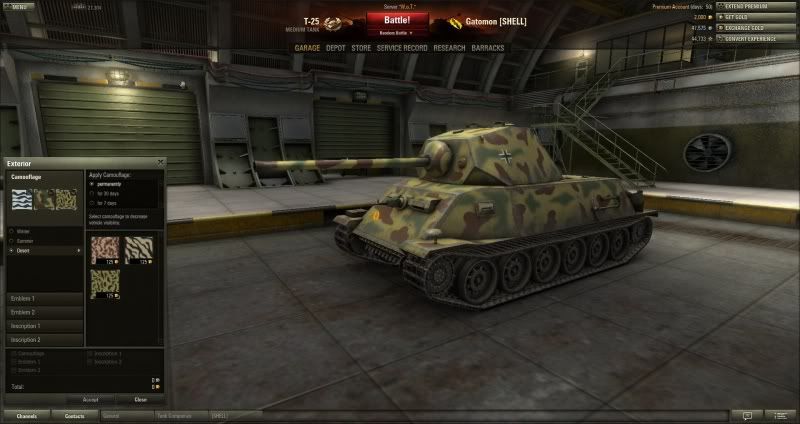 You can see its sloped armor very much like the Russian tank of the era. Germany instead of producing it went to the Panther tank instead. I'm certain this little tank would have been one huge pain the the butt to the Allies had it been made. The Panther was of course a better all around tank for sure.
It has 610 Hit points. The same as the Ram II American and more than the M4. Granted the Russian Matilda and Churchill have more armor they are much slower and less maneuverable. Armor wise in your T-25 it's best to face an opponent of your tier angling your armor. Don't sit there shooting because your going to die!
Armor: of 50/45/20 Front/ sides/rear
Turret is 60/60/35
Shell damage is plenty good with 83-138 Standard damage
Penetration of 87-145
14 rounds a min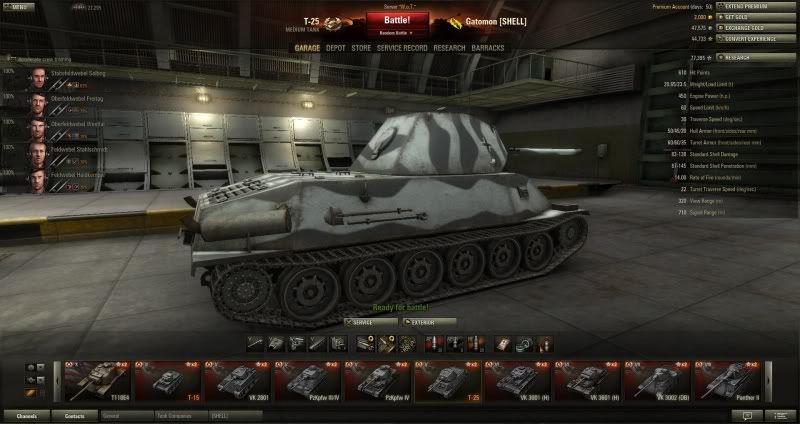 Now the T-25 is not a rocket ship or a speedy skateboard that can turn on a dime like a Russian T-50. It can reach speeds of 60 Km/h. This can be a great boon and also one huge problem when your running ahead of your help.
Now one thing that needs improvement is your View range! At 320 its mighty low. A good crew can make that up. You also can help with Add ons also.
The T-25 has a good radio with 710 signal range which makes it a good scout at times.
You have a crew of 5 and with a good selection of skills you can really make the tank great.
Right now I run a Gun Rammer
Spall liner (I like to ram others)
Camno net. (Hiding in the weeds does help at times)