Note:  This Tree at this time is *NOT* an official Tree.  This only a
discussion on the possibility of such happening.
Introduction
At the start of much tank research I do for tank suggestions, I usually find
out more then I expected.  This is the case when I decided to look up the
Shirir main gun due to the release of the British tree.  During this process,
I found that a full Israeli Tech was a doable proposition.  After a good day
of research, what you have above is the fruits of my labor.
It should be noted that this tree is actually "Israel with guests" or the Isreali-
Arab conflict tree.  The majority of these special guests were involved with
wars with Isreal in some way yet the likelyhood of a being able to supply the
listed unique tanks from these nations to make a tech tree is not bound to
happen.  That is why they are included in the Isreali tech tree.
Why Israel?
Israel has proven to be a highly influential country in the course of modern
tank development.  They have helped other countries take old out modded
units and instituted relevant advances into those tanks that are compatible.
Such is the case with South Africa's Olefant for example.  If Israel had failed
to make such changes the old WW2 tanks, they would not exist as a country
today.
Explanation of the Tech Tree
While I go through the Tree, I will post relevant links.  There are a couple that
will come up often, so I will just make them noted here.  On Note 1, I will
elaborate further on matter since part of my tech tree was already done by
the OP in the thread.  Any tank that is too high for it's tier will receive
Durability Nerfs due to the fact that the Israeli tanks are 2nd handed.
1)
http://forum.worldof...aeli-tank-tree/
2)
http://www.balagan.o...ars/weapons.htm
Tier 1
Bren MG Carrier
http://mailer.fsu.ed...uardService.jpg
*See Notes 1 and 2 for explanation.
There were quite a bit of these running around during initial war of the Israeli-
Arab conflict.  I tend to agree with poster who made the original Tech Tree.  I
do insist that an MG be the stock weapon for Bren though.
Initial Medium Branch
Tier 2 R35
http://forum.valka.c.../1454/saum2.jpg
See Note 1
Right off the bat,  the Israelis
go to work and mount a much better cannon
on an ill gunned R35.  This trend will continue throughout Israeli tank history.
Tier 3 H39
Everything I have to say on the matter is in Note 1.
Tier 4 Sherman Krupp
Via Note 1, I do agree with poster on the matter that Durability Nerfs should be
in play.  It would be interesting to see what a T4 Sherman with a 75mm HE
cannon can do.
Tier 5 Sherman M1
http://forum.valka.c...rman_M-1_03.jpg
See Note 1.
The Israelis are finally getting up to speed here by the 1956 Suez Crises.  By this
time, all relevant parts have been Refurbished.  Anything that was the same
previously in T4 can now be researched to Refurbished and will have stats at or
near their originals.
Tier 6 M51/60 "Isherman" Super Sherman
http://forum.valka.c...man_M-60_01.jpg
See Note one
By now, the Israeli Shermans are up to World Class snuff even if their hulls
are starting to rust.  Not much is changed between M51 and M60 as the
only thing that was done is an addition of the HVMS Gun.
Medium Tank Lines
Before I continue, I must take note on the "Shirir" Gun.  The Shirir gun is
a variant of the British 105 L7 improved by the Israelies.  Most of these
improvements begin at the loading breach.  Also note the final M60
Cannon which will appear on the Magach is based on the British L7.  All
models of Sharir will have differences between the tank lines.
Medium Tank Tiran Series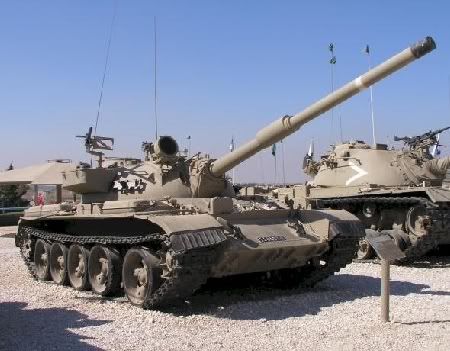 See Note 1
http://en.wikipedia....variants#Israel
All Variants will get refurbished Tracks.  Turret upgrades will only improve
View range.
Israelis captured a lot of equipment in the Arab Wars.  One of them was the
T54/55 tanks.  Tiran 4 will not become an S version, but it's main 100mm
Soviet gun (D-54) will get an upgrade in aim time and accuracy while
receiving a ROF nerf to 7.2 rounds a minute.  However the accuracy buff
will not go beyond the current D-102TC Accuracy.  The Engine will get a
slight improvement of a few horses due to changes in the exhaust system.
Tiran 5 will upgrade the Radio and the Final "Sharir" Gun will become
availible.  The Shirir on this model will carry AP/APCR/HE and will be fairly
average between the tank lines.
Tier 10 Tiran 67 (named 67 after 6 day war) will be a drastic change
between previous Tirans.  It will recieve improved suspension, and a
completely new engine.
Cont. next post....
Edited by IndygoEEI, Oct 15 2012 - 19:06.