EDIT: Testing has shown this is a situational thing! If you have the option to unlock a tank from a previous or same tier tank, you can instead unlock it in reverse, using EXP from the tank that comes after it instead of the tank that comes before it. While this is not quite as good as what I had original thought it was, it is still something with the potential to be useful.
Yeah, seriously. That means that if you have a tank unlocked that is lead to by more than one tank, you can unlock the tanks that come before it from it. That sounds kind of confusing, doesn't it? Well, that's o.k, I've played enough solo pub games to be prepared for the average player, which means I have prepared pictures instead of those difficult things called "words".
Yes, I did this on the test server. Yes, you can do this on the main server. Why would you not be able to? Anyhow, let's have a look:
Stage 1
: As you can see here, we have the tier 6 American death machine, otherwise known as the "Easy 8". From this picture, you can see that two different tanks lead into it, the M4 Sherman, and the M7 Medium Tank. I researched my Easy 8 from the M4 Sherman, and have never played or unlocked the M7. As you can see, it list the required EXP to unlock it.
Stage 2
: Now, I click the research button. If you are lost at this point, you are probably a 45% player and need to go back to the lower tiers instead of being the top tank on my team every other game. I cropped this screenshot in such a way that you can see I am still on the Easy 8 research page.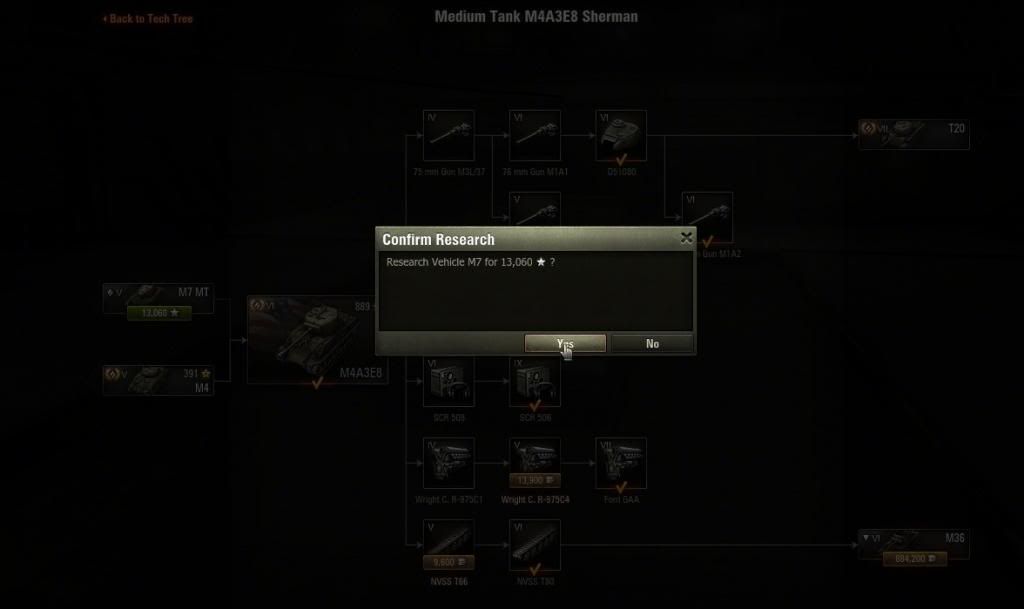 Stage 3
: Enjoy your new medium tank that thinks its a light tank. It's like the T-127, but in reverse!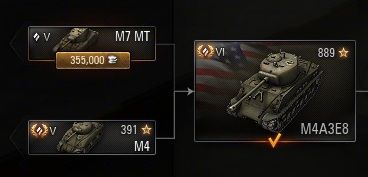 FAQ:
Q:
Halp, this was 2 hard 4 me!!!???!!!!!1111! Wat shood I do?
A:
Someone of your intellect needs to stick to arty and other tanks that don't actually require thinking to use.
Q:
Why did you show us this tank in particular?
A:
Because it was convenient, and because there is a possibility that the new American tank line will branch off from from the M7 Medium Tank, and I do not want people who own the Easy 8 or are going to own the Easy 8 to have to suffer through the M5 Stuart to get the M7.
Q:
Can you research modules in reverse?
A:
I wish. Once you unlock a tank, it acts as if you had unlocked from the tank that came
before
it,
regardless of the fact you unlocked it with the tank that came after it.
Q:
Why is the T57 so blatantly OP?
A:
Because the devs give absolutely zero fu... Er, uh, OP tier 2 American tanks? Those don't exist!
*Looks at T18 with worry*
Q:
Is it true the new American tanks will have drum loaders?
A:
How does that relate to backwards research? Now that I think about it, how did that last question relate to it either? All I know is that the devs are basically going to have to completely and totally ignore real life for them to not have autoloaders. Which, judging by the T25/2, I would not put past them at all.
Hopefully, this revelation will save you from grinding to tanks in a route that takes longer then needed. You can work backwards through various tech trees to unlock them from the top down, should you choose to do so!
Edited by Toasted_Rofls, Oct 28 2012 - 05:37.