T71
Wild Weasel
Welcome to the T71 Guide  
Coming after the T21 the T71 is a welcomed payoff. The pinnacle of USA light tank design. Sharing the qualities of French auto loader turrets and the Chaffee's small size and grace.  It's strength and weakness can make a player excell  or crash.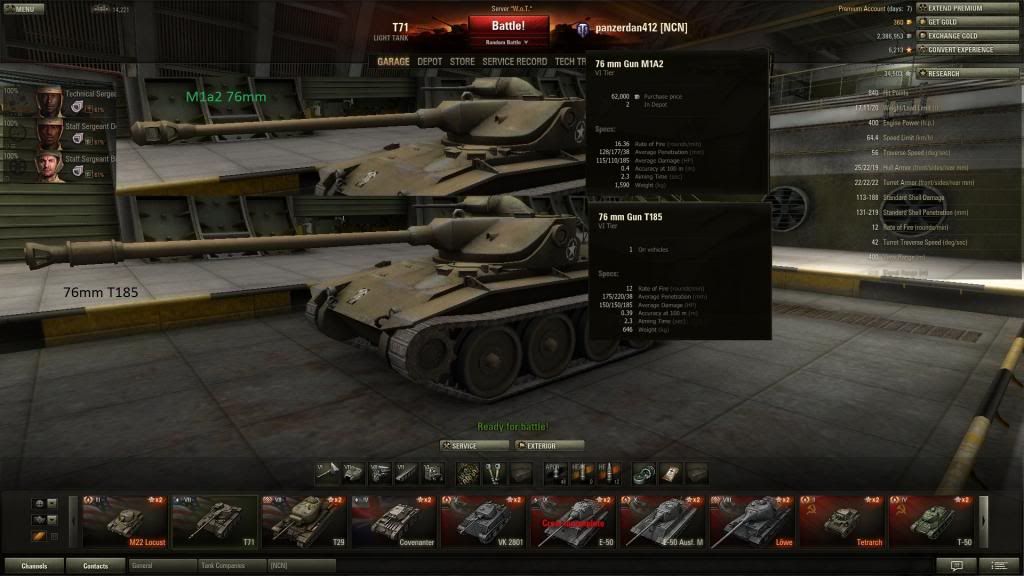 The 76mm T185" the boom stick" combining rapid fire penetration with accuracy  at distance. Firing APCR rounds in a 6 round clip with a clip reloading in 19.75  with 100% crew and no vents. It's gold rounds are HEAT capable of penning even the most imposing of enemies.  The T71 can mount this cannon without upgrading it's tracks for only 6800 exp.
Choosing This as a first upgrade will limit your speed and mobility but improves your combat effectness.  Tracks are a must as a second upgrade with out them the chassis is overloaded and you can't mount the second engine.
Gun / tracks/ engine/radio or T69 unlocked
Our role  by placement on the  battle screen.
Bottom 5
harassment, passive scouting, long range  Counter scouting
Middle 5
Lighting strike on high value targets ( not artillery), fast fire support,  flanking fire on main attack, harassing tank destroyers
Top 5 (a rare one)
Staying alive, sniping in cover, stay in range of support  don't actively scouts your too value as a turreted td then a powerful t-50-2.
Harassment is making movement miserible for high tier tanks weather it's  constant tracking  or flanking fire. Late match harassment is actively flanking  with your team in tow while you shot thier ass an IS-7 shots there front plate or there rear turret wall.
Passive scouting is staying place  usually in a bush or by a building and allowing the enemy to move to your view range allowing your camo crew skills  camo rating and camo net to mask you.  This  requires a camo trained crew, 5% camo buff from paint and camo net with binoculars. Allow you to spot in theory to 445 meters . Note most spotting happens at about 400 to 420ish.
This leads into counter scouting using the rapid fire gun and module targeting to disable scouts allow them to dealt with.
The T71 excells as a "shot and scoot" a powerful top engine and responsive    Handling allow this tank shot quickly and drive away. Avoiding counter fire and repostitioning  is key. When in doubt run it out.
Fast mediums or light will try to advance to chase you down Heavies will  likely stop to  fire avoid them.  Bait mediums in to your teams fire fields.  Then turn and finish them off.
T71  is a light tank but it's not a scout tank. A vk 2801 will kill you on a toe to toe fight.  Most of the time do to massive HE damage to your 3 man crew. Your role is scout-sniper.  6 rounds of aimed fire at the key time.
Crew skills fall into two camps fast aggressive high risk,high reward. Stalker in the bush  fast  movement following contact and well aimed shots from distance.  I prefer the latter  making the most of the clip of  6 rounds is the key to success. Firing at 64 kph   Your going miss too many shots 3/6 will only make an enemy  tank  pay attention to you.    Tho if a T71 can close to point blank range the ye old circle of death is a must  if your doing this  don't fire til 100m  19 sec of circling isn't fun.
Sniper
Sixth sense,camo, recon, repair/improved radio range
Camo, clutch braking,smooth ride
Camo, snap shot deadeye/ designate target
Aggressive
Repair, sixth sense,recon
Repair/ smooth ride, the other one, clutch braking
Repair,snap shot, deadeye
Equipment  poor man to rich man
Poor man
Vents 50k, Camo net ( u have one in depot most likely and binocular too.
Wealthy
Vents, coated optics, enhanced gun laying
Rich man
Vert stab, coated optic and enhanced gun laying
All improve your combat  tho the prices  are steep 650k to 1.5 million
Consumable
First aid kit: this is a must have only 3 people crew this tank. A killed or knocked out crew is devesating  increasing your reload time to 24 secs with 1 man down. Then your two crits away from  crew death.
Repair  important for both the sniper and the aggressor with low armor and only 840 hit points. The long barrel is prone to damage from arty
Gasoline always a plus  however the 5k  cost makes it hard to turn a profit  with or without  premium.
Cola always a good option too 10% crew skill is great tho haven't tested it more then a handful of times.
Profitable of the T71
Being a T7 tank there a good income  from the tank  even without premium  more to follow after more matches