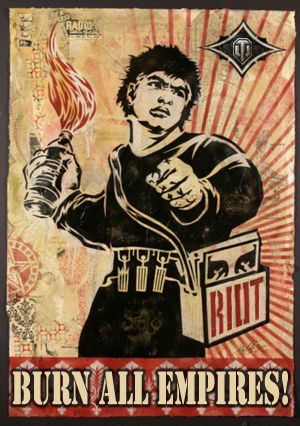 Burn All Empires
[RIOT]
We are an established clan looking to recruit a few more members to be a part of our barbarian horde that wreaks havoc. Our challenge is great, the constant fights are awesome and the rewards plentiful.
The details:
We are a small, tightly knit, US EST time zone based clan that pursues a barbarian conquest strategy. We land and push towards richer land, willing to sacrifice previous provinces if it bogs down our conquest goals. We will carve our way through established empires leaving chaos in our wake. Diplomacy will be kept to a minimum.
By constantly fighting versus established clans we will stay fresh, sharp and vigilant. We have already surprised many established empires by steamrolling straight through them, leaving nothing but destruction.
Our goal is glory in a blaze of fire and gold!
Membership Requirements:
- minimum 53% win-rate, a decent efficiency rating (1200+), and good stats in your tier 10 tank.
- able to participate in clan wars at least 3 nights a week. We usually have 2-4 battles a night, so plenty of time for fighting!
- must have a tier 10 tank or tier 8 artillery. Preferred tanks: T110E5/E4, IS-4, T-62a, BatChat.25t, T57 Heavy. If you have a tier 8-9 heavy tank and are motivated to get it finished with our help, then we also have a spot for you on our team.
- must have a microphone + teamspeak 3
- must be willing to follow leader commands and communicate well with your teammates.
- in general we would like our members to be 16+ as most of us are in our 20-40s.
- our time zone is Eastern Standard Time, most of our battles are between 7:30PM EST and 9:30PM EST.
** We are willing to take on tier 8/9 tankers who show talent and a passion to complete their tanks and join our team. **
Clan Mantra:
[RIOT] is a place of fun! We kick butt and laugh a lot. We were born to fight and that is what we do best!
Our Past:
Our founders Siian and Keir_M have played together for over 10 years, leading and directing clans, guilds and corporations. We have always preferred to work with a small group of highly skilled players over a large group of mediocre players.  Siian and Keir_M have both played leading roles in the top-10 world-ranked guilds in Guild Wars and ran highly efficient and profitable pirate corporations in Eve Online called Tides of War.
Clan Tournament Achievements:
3rd Place Skirmish 12(2012)
4rd Place Skirmish 5(2013)
How to Join:
1. Visit our clan page here:
http://worldoftanks....1000004750-RIOT
2. Contact and of our recruiters/commanders, and we will play some games with you.
3. Connect to our TS and play several games with recruiter and other members.
4. If we like you and you like us, then we send you an invitation!
All of our members were recruited this way, and we never just recruit based on paper stats. This personal recruitment ensures satisfactory members and that your goals are the same as ours. We want you to find a place that you enjoy most, after all, you, your chip and your tanks are of great value to the clan you join.
Edited by Siian, Mar 02 2013 - 16:26.