Hey everyone. I've wanted to make this guide for quite a while, and now that I have some free time I can finally get around to putting it together. When newer players begin to make their way into the mid-tiers, they not only encounter more experienced players, but also more involved game mechanics. There is a fantastic archive of guides and tutorials on this forum, but there is one area that I find many newer players have great difficulty: combating proper armor angling. Mid-tier play introduces vehicles that can effectively make use of the armor angling tactic, and this guide is intended to be a basic introduction on how to address the challenges presented when facing armor angling for newer players. In this guide, I will go over some basic, introductory level skills a player can use when faced with an angled opponent.

Staz's Basic Introduction to Combating Armor Angling

What is Armor Angling?
There are numerous guides on this forum that address what armor angling is and how to do it properly, so I will not go into great detail about it. However, for the purpose of context, let us briefly review what exactly armor angling is.
In short, armor angling is the practice of presenting your armor at an angle to an enemy tank in order to increase the effective thickness of your armor and increase the chance of a ricochet. Experienced players can often use this tactic to great effect, allowing a player to survive a battle with thousands of potential damage received above their tanks own HP. Please refer to the below images as references: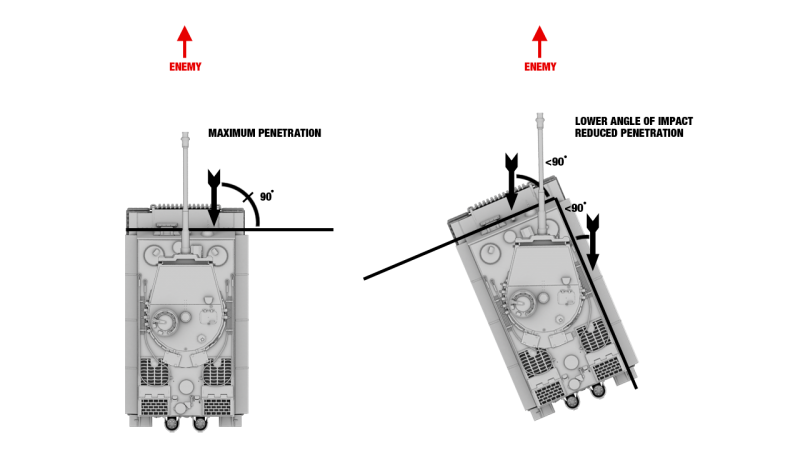 Now that we are in the correct mindset, let us move on to the some of the basic forms of armor angling and how to combat each of them.

Various Forms of Armor Angling

Traditional
Traditional armor angling is what most players encounter when engaging an enemy tank. As described above, this involves the enemy tank angling their armor towards you in an attempt to a) increase the effective thickness of their armor, and b) increase the chance of your shell ricocheting. An example of this is shown below.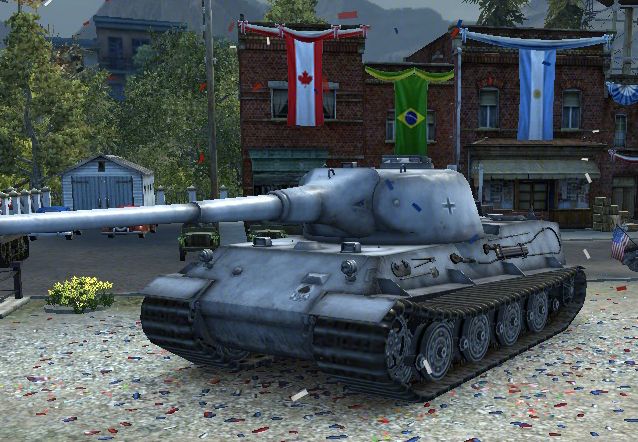 If an enemy tank is angled like this against you, you may find it difficult to penetrate traditional weak spots (ex: their lower plate, the drivers view port, their sides, etc). If a tank is properly angled, shots to these areas will often result in ricochets or non-penetrations. Now, before you engage an enemy target, there are several things that you should look for when engaging someone who is implementing traditional armor angling against you.

Under Angling
Under Angling occurs when a tanker angles their tank towards the enemy but does not angle it enough to make an effective difference, thusly leaving the tank vulnerable. Please observe this example of under angling:


In this example, the Lowe shown is under angling. While, at this angle, the Lowe's sides are effectively and auto-bounce zone, traditional weak spots such as the lower front plate (LFP) and the Drivers View Port (DVP) are left vulnerable to being effectively targeted and penetrated by enemy fire. If you see an enemy tank under angling, aim for traditional weak spots and you should be able to penetrate their armor with little issue.

Over Angling
In an effort to angle their LFP away from the enemy, many tankers develop the nasty habit of Over Angling their vehicle. While over angling turns frontal weak spots into auto-bounce zones, it exposes the side armor of the vehicle to enemy fire at a shallow angle. Please observe this demonstration: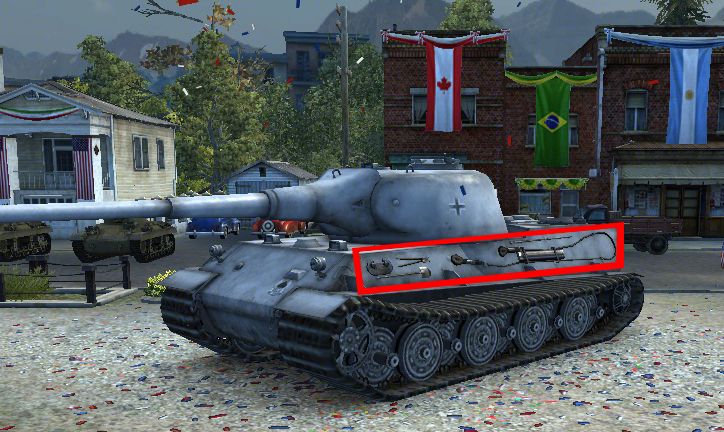 In this image, the Lowe has over angled its armor towards the enemy. While its LFP and DVP are safe from enemy fire, its side is exposed at a relatively shallow angle towards the enemy. When facing an enemy that you recognize is over angling, aim for their over exposed sides to penetrate their armor.
Now, back to traditional armor angling.

Let's say that the enemy is doing a great job at angling their armor. They have presented their hull armor in such a way that shots to the front or sides are likely to bounce, and they are wiggling their turret back and forth to reduce your chance of hitting any other weak spots (such as the commanders cupola). Between terrain and other enemy tanks in the area it is not possible to flank this tank in an attempt to get a clean, flat shot on their sides or rear. At this point it looks like you will have to engage this tank frontally from your current position: what will you do?

In situations such as these, I find that the key to defeating traditional armor angling is to aim at one important area: the front track wheel. The armor behind the front track wheel is thin and easily penetrated, and in the case of a non-penetration you will at the minimum track the enemy tank and force them to either a) burn a repair kit, or b) keep him in the open for your allies to engage. However, I find that in most cases the shell will both track the enemy tank AND penetrate the armor at the same time. Allow me to demonstrate: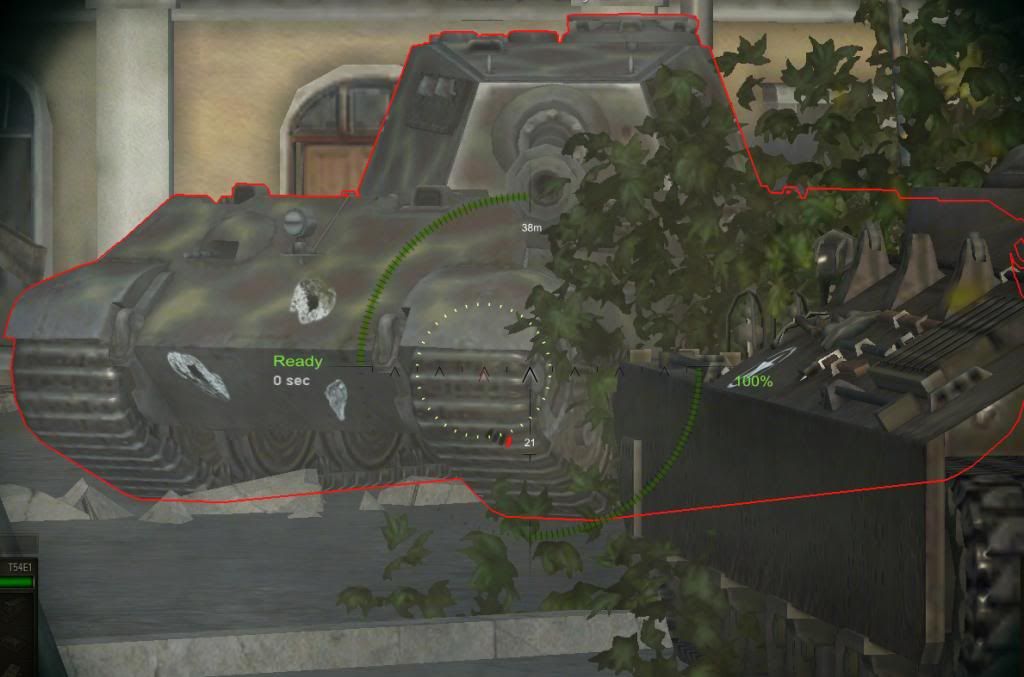 In this old chaotic screen shot, we can see my engagement with a well angled Tiger II. When I first began to engage the Tiger II I had 3-shots left in my drum. The Tiger first approached me straight on, and we can see where the first shot entered cleanly through the left side of the Tiger's LFP. After receiving a penetrating hit, the Tiger II began to angle its armor. As a result of this angling, we can see where my second shot bounced off the right side of the Tiger's LFP. With my movement restricted by the buildings around me and the allied T95 to my right, I aim my final shot at the Tiger II's front track wheel (as shown above). The subsequent shot penetrated the Tiger II's armor and dealt a damaging blow, as well as tracked the Tiger II long enough for our reloading T95 to put another shot into him.
Allow me to provide you with another example. In this image, yet another Tiger II is doing a great job at traditional armor angling. Again, I aim for his front track wheel, and am rewarded with a hit that both tracks and damages the enemy tank.

Now that we have covered a basic introduction on how to address the challenges of traditional armor angling, let us move on to how to deal with other forms of angled armor that a new player may face on the battle field.

Pike-Nosed Armor
Pike-nosed armor is another form of angled armor that many newer players to the game have trouble penetrating. Pike-nosed armor is a staple of IS-series and Chinese tanks, and is characterized by its very distinct "pike nose," as shown below: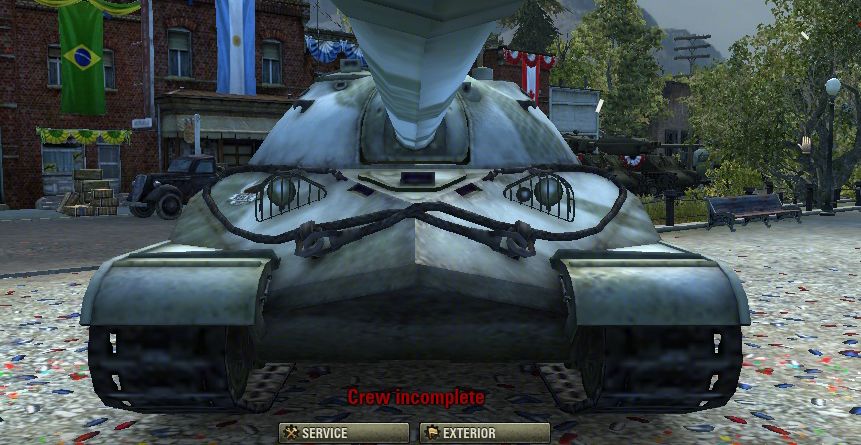 Pike-nosed armor is designed to be especially bouncy from the front. Essentially the armor is sloped back at two separate angles from the enemy: the traditional back slope seen on most tanks, and an additional side slope as though the tank is already angled. This greatly increases the effective thickness of the armor, as well as dramatically increases the chance of a ricochet. Many new players run into trouble when facing pike-nosed armor for the first time.

When engaging pike-nosed armor from the front it is important to remember that, although it looks different, it still retains many of the traditional weak spots. The LFP and DVP are still major frontal weak spots on pike-nosed tanks.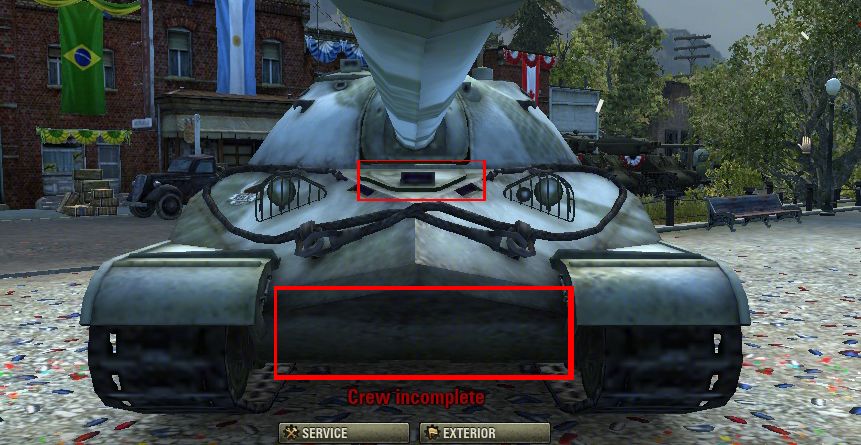 Now, the fun part about this is that many pike-nose vehicles keep their ammunition/fuel stored just behind their LFPs, and sometimes the result of a penetrating hit can be quite spectacular.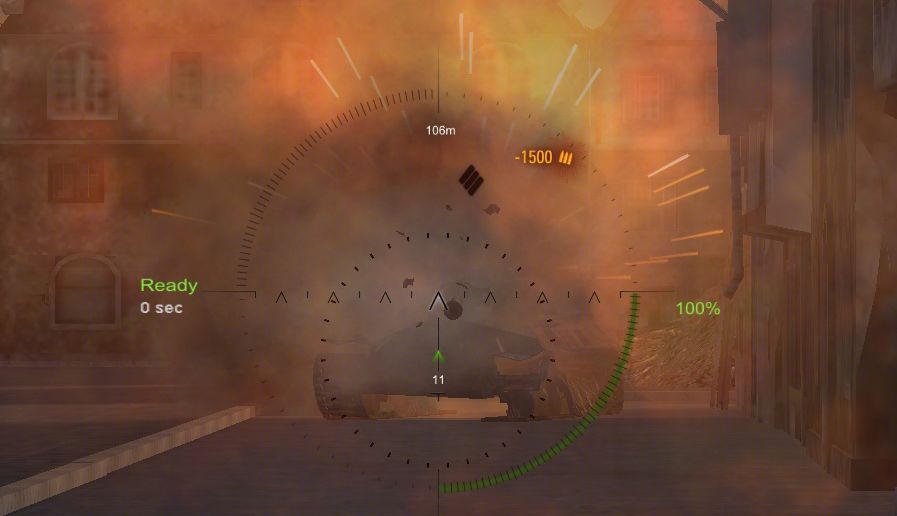 However, many drivers who are new to pike-nosed tanks make a fatal mistake when engaging the enemy: they angle their armor. But wait Staz! Arent you supposed to angle your armor when facing an enemy tank??? Yes, concerned player, you are, but not in pike-nosed tanks. You see, effectively having a "double slope," as described above, means that the tank is essentially already angled for you. Pike-nosed tanks are designed to be pointed straight at the enemy. It is when a pike-nosed tank is pointed straight at an enemy that its armor is most effective. However, many newer players do not know this, and angle their pike-nosed tank when engaging the enemy. The result looks something like this: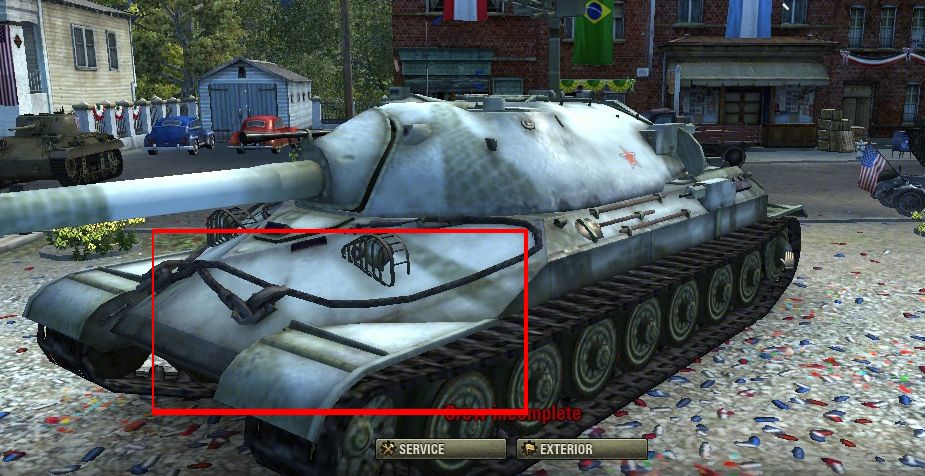 In this image, we can see that the IS-7 has angled its armor towards the enemy. In doing so, it has effectively negated the double slope aspect of its piked-nose. The armor is now presented flat, or with little angle, towards the enemy tank, and can thusly be more easily penetrated. When engaging an enemy tank (one with a pike-nose) that is angling their armor, feel free to exploit this and send round after round through their Upper Front Plate (UFP).

***Note*** A word of caution: many pike-nose tanks have a strip of spaced armor that runs along the length of their tank. (If you are unsure what spaced armor is, please reference one of the many great on the topic on our forums. I will include an image as a quick reference below). This strip of spaced armor can cause issues when engaging certain tanks. Just keep this in mind when you are engaging pike-nose tanks (though it is important to note that spaced armor is not limited to pike-nosed vehicles).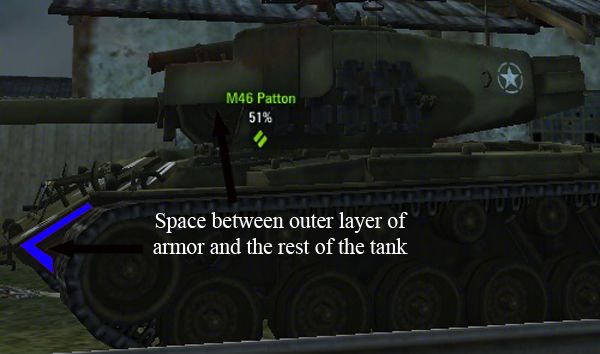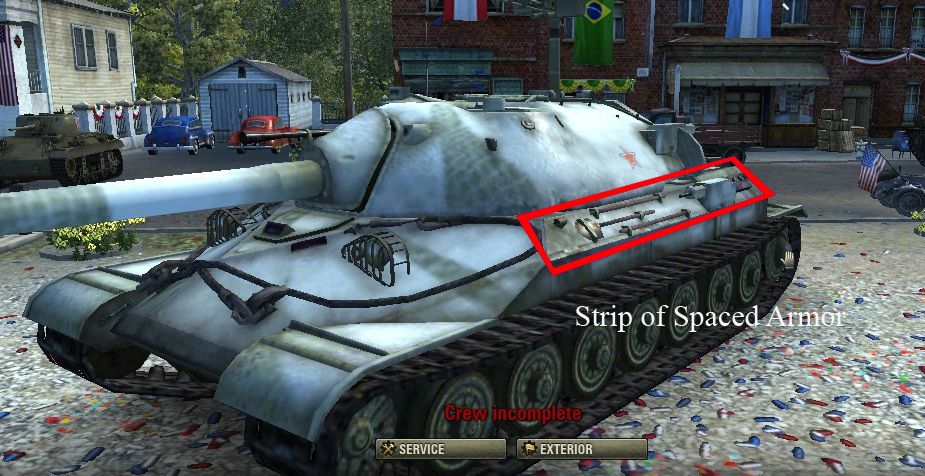 Terrain and Armor Angling
When discussing how to combat armor angling, it is important to note the impact that terrain has on the process. Terrain (as well as your guns relative angle to the target when using notably tall or short tanks) can greatly influence how you engage a target. This is because it affects the angle at which you shell approaches and enters the target. Let us briefly go over a few ways in which terrain can play a role when engaging the enemy.

Ideally, when you engage a tank from the front you want a clean, straight on shot into their LFP. Although your shell enters the enemy tank at a slight angle (relatively, your gun is higher than their LFP) the angle is often times shallow enough that the shell still penetrates the armor with ease. Some simple examples of this are shown below: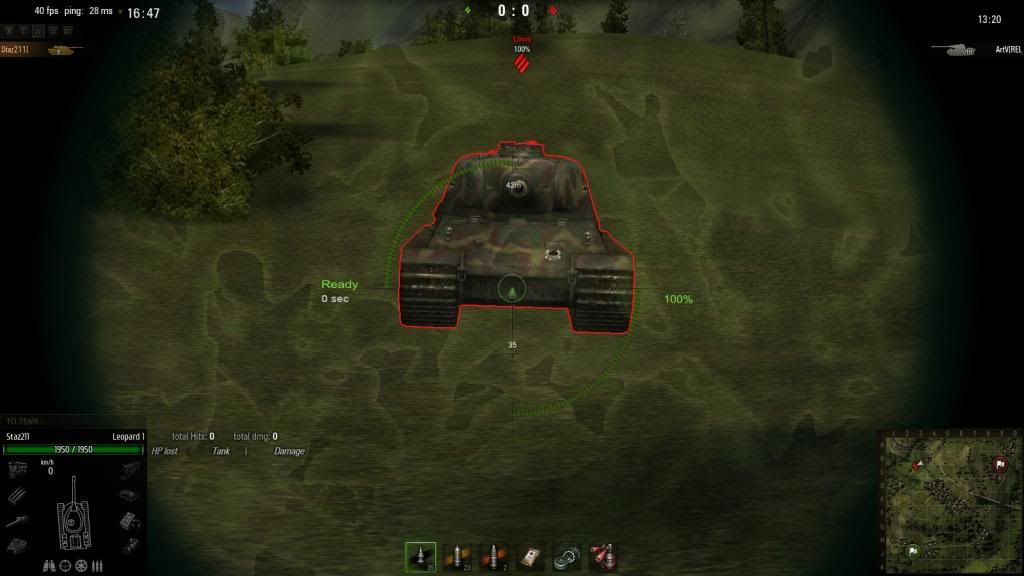 However, terrain (and thusly the relative angle of your gun to the target) can greatly influence where you decide to shoot an enemy tank. Let's say, for example, that you are above an enemy tank on a hill (or in a tall tank, such as the E-100). When engaging the enemy tank, some players will still aim for the LFP, not taking into consideration the effect that the shells approach angle will have on the shot. The shell will now be approaching the LFP at a much steeper angle, thusly increasing the effective thickness of the armor as well as increasing the chance that your shell will bounce. In situations such as these, weak spots such as the LFP are now effectively one of the best protected areas on the tank.


However, it's not all bad news. Being elevated above the target has its advantages as well. For the most part, it is generally accepted that you should not fire at the UFP of an enemy tank as it is often the thickest and most sloped part of the tank. However, in a situation such as this, the UFP now becomes a viable target. The armor on the UFP is now being presented to you in a manner such that it is flat to your gun. This will often times allow you to shoot through the enemies UPF, considering that it is now effectively much weaker than if you were facing the enemy tank from the front on level ground.

The screenshot posted below depicts such a scenario. In this situation, I would engage the Lowe by shooting through his UFP rather than his LFP. Keep in mind that sometimes, depending on how high you are relative to the enemy tank, you can even get shots through the top of the tanks turret (the top of the turret is one of the weakest parts of a tank's armor).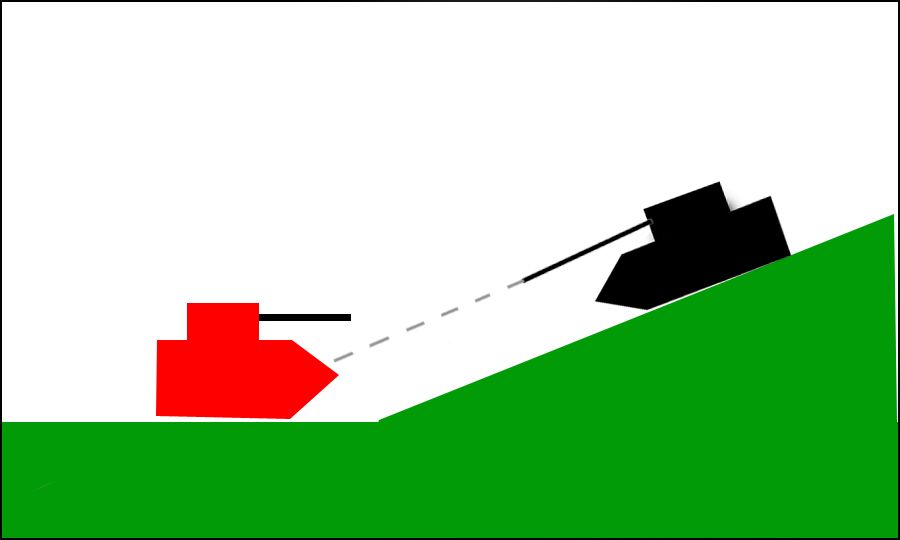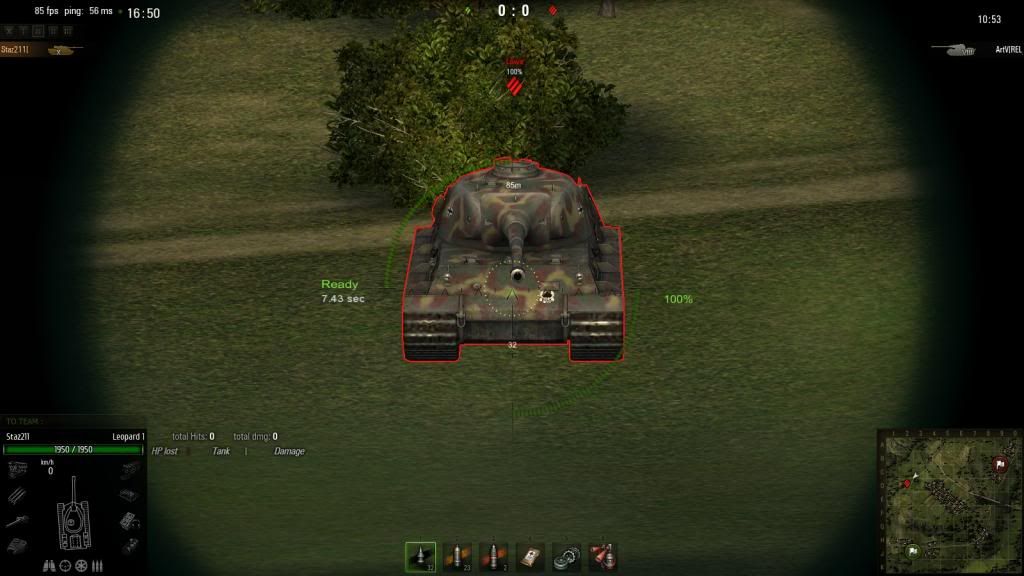 It is important to consider the impact that terrain plays when engaging the enemy. Both being above and below an enemy tank has distinct advantages and disadvantages. I cannot go over every instance in which terrain will affect your shot (the possibilities are countless, and this is only a basic introduction), but keep in mind that the angle of your gun relative to the tank you are shooting is important when fighting on the battle field.

Conclusion
This concludes my basic introduction to combating armor angling. While there is much more that we can examine on this topic, the information present in this guide should help newer players gain an idea of now to engage an angled enemy tank. Depending on the popularity of this guide I may move on to make an Advanced Combating Armor Angling Guide, addressing topics such as side scraping off of buildings, angling on the move, a more detailed examination of terrain, more on relative gun angles in regards to notably tall or short tanks, combating experienced tankers who adjust their angles while fighting, etc. But for now, I present to you this introductory guide. I hope that you find the information useful, and please feel free to leave me feedback and suggestions in the comments below.
Also, a special thanks to ArtV for taking the time to hop into a training room with me and letting me take a few screen shots.
Good hunting, and I'll see you on the battle field.
-Staz