I see a lot of people using the phrase "I could care less".  You keep using that phrase, I do not think it means what you think it means.  Quite simply, if you could care less, that means that your current level of caring is higher than what it could be.  In other words, if your goal is to not care at all, then you still having some level of caring above that.  I always find pictures are helpful in understanding concepts: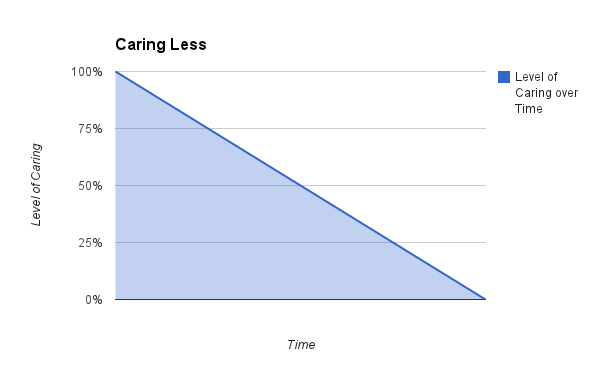 In the chart we see that somebody starts out with a caring level of 100%.  It is something they deeply care about.  Gradually over time they care less until the reach a point where their level of care is 0.   This is the situation where they are completely indifferent, have no vested interest in the thing that is being considered for care.  If your goal is to care the least about something then zero is where you want to be.  There is nowhere to go beyond there*.  Zero fax were given at this point i.e. You could not care less. 
If you've read this and are thinking to yourself "STFU you arrogant know-it-all.  I couldn't care less about your stinking poast", then congratulations to you!  I think you've made some progress today.
*II'm not really sure what negative caring or anti-care represents, so is considered irrelevant to the point trying to be made.  If you absolutely must define it then I guess it could be some form or caring that is manifested through hatred or rage (going postal?).  In which case, approaching zero would still be indicative of caring less.