[EDIT] New data for tank from Tank Inspector released with the 9.6 patch at bottom of post.
Let's start my argument off with a link. Also, please read the entire article before negging or replying, should help on you comprehending my point, thanks. Understand that this review is based on the current stats of the tank, I could change my mind if the tank was rebalanced again.
http://tank-compare.com/en/compare/t-54-first-prototype/type-59/panther-mit-88-cm-l71#T1=628I519I435I743I197&T2=435I350I298I537I200&T3=547I446I373I658I241
As you can see, the T-54 Prototype has the worst top speed and reverse speed of all the 3 medium tanks. 44km forward and 18km backwards, severely limiting your ability to flank.
And while many claim the Panther 8.8 is slower than the T-54 Prototype, you could be true, but there is a massive difference in soft stats.
The Panther 8.8 has an unarguably great terrain resistance. Looking at tank-compare, it is 0.6/0.9/1.5. Now let's look at the T-54 Prototype. It is 1.1/1.2/1.9. That is horrid, severely limiting it's actual acceleration capacity. So this means that it is surprisingly very slow on flat ground, and the mobility is nowhere near the Type 59 or even Panther 8.8, except when you are climbing hills as the pw/wt ratio IS higher than the Panther 8.8's. But you aren't a hill fighter either, with a rather poor -6 degrees of gun depression - this IS a significant difference from the -7 of the Type 59. Think the difference between the Object 140 and the T-62A when utilizing gun depression.
Yes, the armor values look simply awesome on paper, and when you think of the T-54's good sloping, it's amazing for tier 8. However let's look at the actual data for any parts you may have missed from the statistics given on paper.
Another link: http://ftr.wot-news.com/2014/12/30/t-54-prototype-historical-data/
When reading through the wall of text, you can see the entire roof armor of the turret is only 15mm. This means for abysmal protection from arty when combined with its mediocre speed, and also means that any tank on slightly taller ground, or any tank that is slightly taller than the T-54 prototype, will easily penetrate it every time at ANY angle over there as long as its caliber is 75mm or higher due to overmatching mechanics - calibers lower than that are VERY rarely seen for its tier level. Combined with the T-54 prototype's lower profile and the fact that it is simply configured for brawling in close quarters, any competent player knowing this fact can easily damage and defeat it. Also, when reading the slopes of the lower plate, it is significantly less than the T-54. The upper plate is almost the same as the T-54, but the lower plate is a great deal less sloped. It is only at 45 degrees, while the T-54's lower plate is approximately at 62 degrees. This cuts down its effective armor from nearly 230mm to a measly 157mm. Next, the gun mantlet is 180mm but unsloped, and if it follows the T-44's armor setup pattern (which it should, as it is based on the T-44), nothing will be behind it, so the effective turret armor is really only a bit over 180mm in it's hardest point. So, overall, the T-54 Prototype's armor is a great margin worse than advertised, and the fact that it will quite oftenly face tier 10 tanks, as it lacks preferential MM, makes the situation even worse.
Finally, let's look at the arnament. It has 250 alpha damage, which is average for a medium. However, it only has 175mm of penetration. This, combined with the fact its rather low mobility means it simply will struggle to penetrate many of the targets it faces. The APCR round is decent at 235 penetration, but no one wants to be firing gold if they can avoid it, especially in a premium tank that is supposed to be earning credits. The aim time is somewhat slow at 2.6 seconds, the accuracy ok at 0.38, and then we run into another problem. The ROF is only 7.41, which is slow for its alpha damage, putting out a DPM of a mere 1852.5 damage base, and the gun doesn't have the accuracy, gun handling, gun depression, penetration, or alpha damage to make up for it. In short, the gun is definitely a sore point for the tank. It won't help much against many of the tanks it faces, it's not like it can flank well to make up for its pen, AND even then the damage output is insufficient.
Miscellaneous: The traverse speed is fairly decent at 42 degrees, but it is limited in reality due to poor terrain resistance. The view range is the worst of all tier 8 mediums, at 360 meters of view range. 40 degrees of turret traverse is decent. The price is very high, in fact the highest for a tier 8 medium as of now, at 11,600 gold according to Tank Inspector. This is more expensive than even the T-34-3. The crew luckily fits the russian medium line tanks from tier 7 to 10 (all crew members except radio operator). The HP pool is another low at 1300 HP.
TL;DR and summary: The T-54 Prototype may seem quite good at a first glance, but after closer inspection you will see that it is quite mediocre in many, many aspects, and the lack of pref MM is the final straw into making an expensive, overrated, and overall poor new tier 8 premium medium. If I had something good to say about this tank (other than armor), I would say that it is very well balanced and is far from the initially OP monster that was the Type 59, WG learned from that at least. But if you're tired of running the Matilda IV when training your crews, and have lots of money to spend for your absolute favorite tank line instead of a better premium, go ahead and get it. I know I'm not going to fall in WG's hype/money scheme trap, I'm going to wait until they rebalance it again or ever will.
FCM 50T it is then for my next premium! Now I know THAT thing has been proven many times to be a real awesome tank. Seriously, I beg you guys to take a second look before buying the T-54 Prototype. It's far worse than its high public reputation.
[EDIT]
The T-54 Prototype model and data has come on in Tank Inspector, and it's just as bad as I imagined.
As you can see: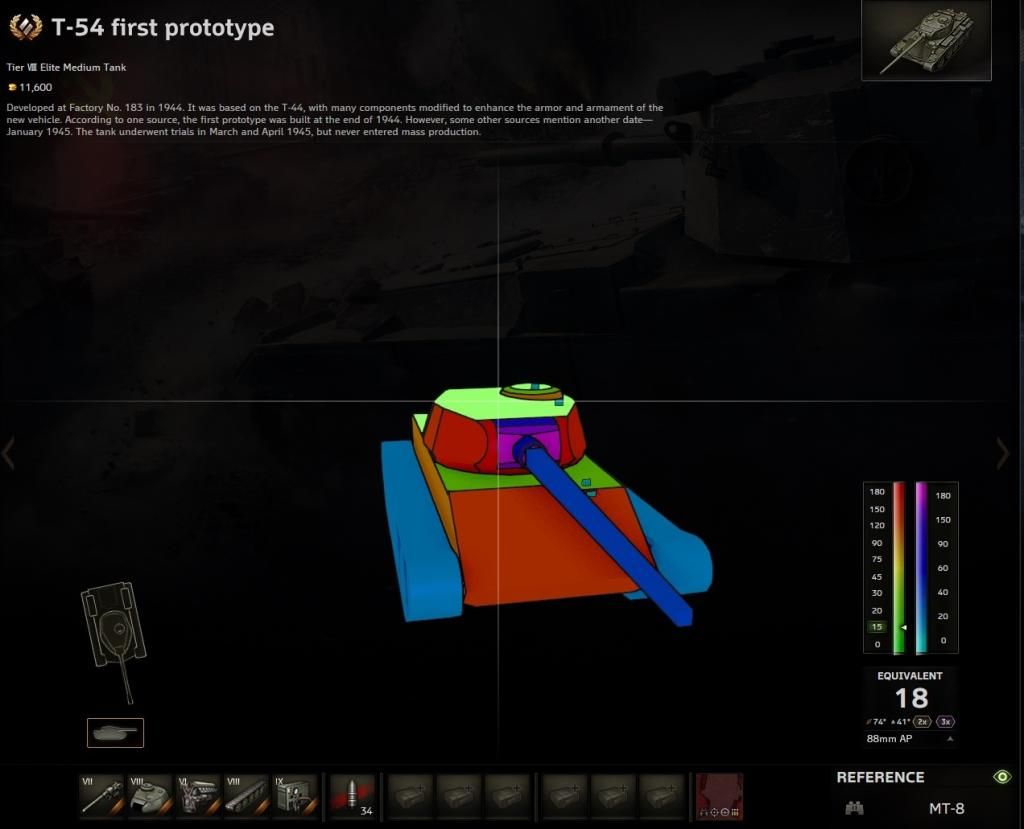 That roof armor. Totally not a weakspot able to be penetrated through by any tank it meets (45mm gun or higher caliber).
Unsloped turret cheeks, think T110E4.
Dat gun mantlet though. Basically flat with a massive zero-armor hole behind it.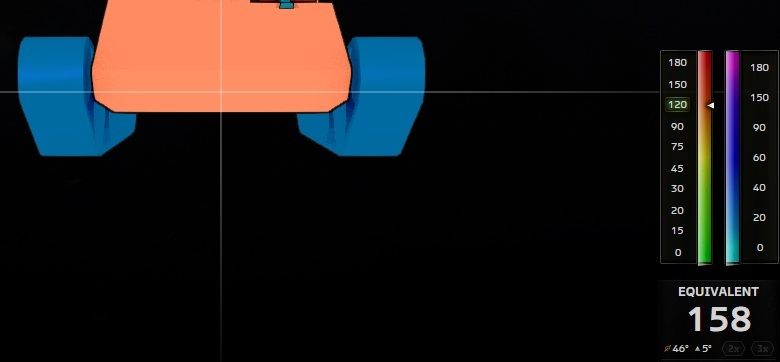 "Lower plate is not a weak point." If you call a lower plate like Jagdtiger 8.8's "not a weak point".
And finally, here are the soft stats. Let's see about this acclaimed "amazing Russian gun handling". There's a reason why you see so many red arrows.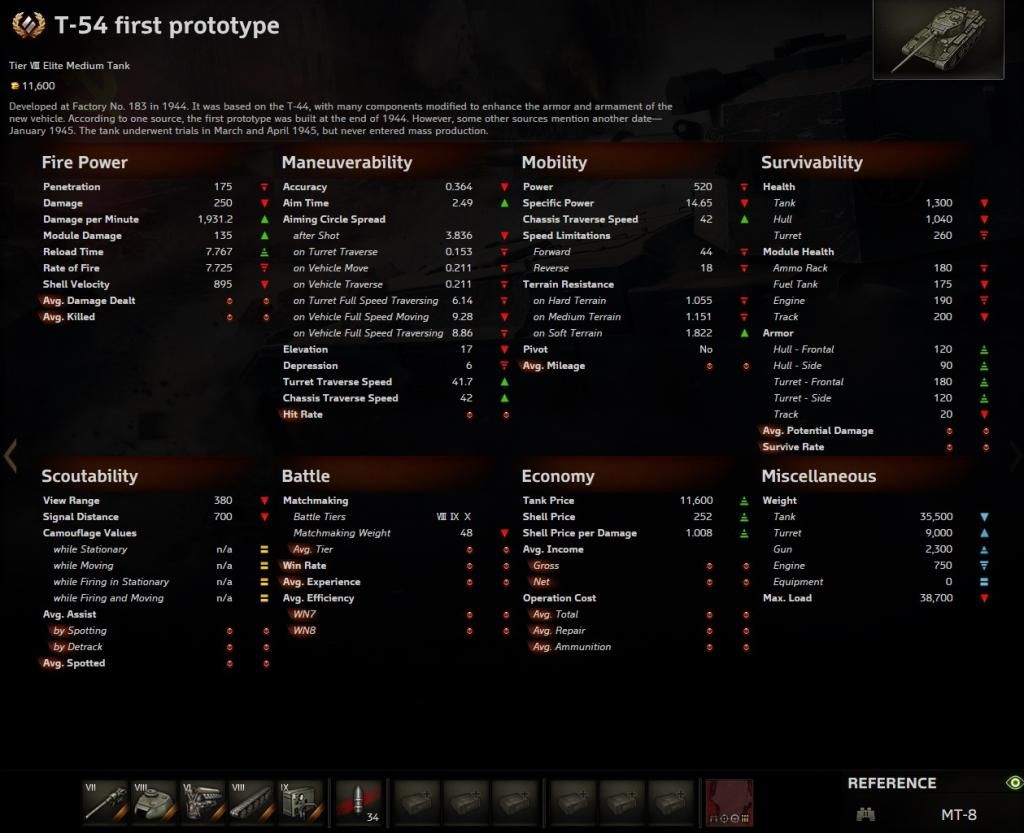 Incredibly weak module HP (especially dat ammo rack), 34 ammo capacity, 175mm penetration, terrible terrain resistance, no preferential MM, higher price than an IS-6, and terribad gun handling. Just doesn't look like a tank worth buying, even if they lower the price. Even the STA-2 and Panther 8.8 simply can't compare to this tank's level of awfulness, inflexibility, underperforming stats in practically every aspect. Since WG already modeled all the T-54 Prototype's stats, it is unlikely that they will change it to a large extent again, especially since they already have rebalanced once in the Supertest. Even with a few buffs, this tank will still be quite atrocious. Think a Super Pershing that meets tier 10s on a regular basis. 
[EDIT] Hey, here comes all those forum threads about their "favorite tank" and how they felt the tank was "awesome". Notice how nobody with more than 50 battles has made the same claim...
When you see a tier 9 medium or heavy, or a tier 8 td, you're basically absolutely screwed. The only way you can play this tank is to have your fingers crossed for amazing mm every single time you click the battle button..
Edited by The_Ghghp, May 02 2015 - 00:57.