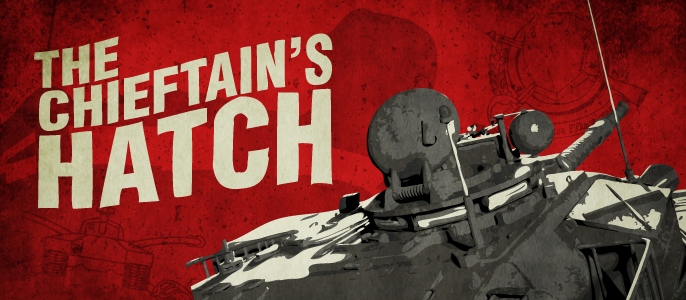 Going on an entire change of pace from the dour seriousness of the Armored Board's assessment of the Centurion, we shall now turn our attention to the mad scramble in the US Army at the beginning of its wartime experience in the matter of how to deal with the problem of the massed German armored attacks which had overrun Western Europe.
A Colonel Leigh Zerbee of the Chemical Warfare Service apparently was one of those working on the problem, and not only did he develop a concept for a tank destroyer, but he built a prototype. After doing some local testing, he sent a letter up to the line to the Adjutant General of the Army, with his proposal. This letter was dated 01 Sept 1942, though obviously he had been working on this for some time beforehand.
I present it below: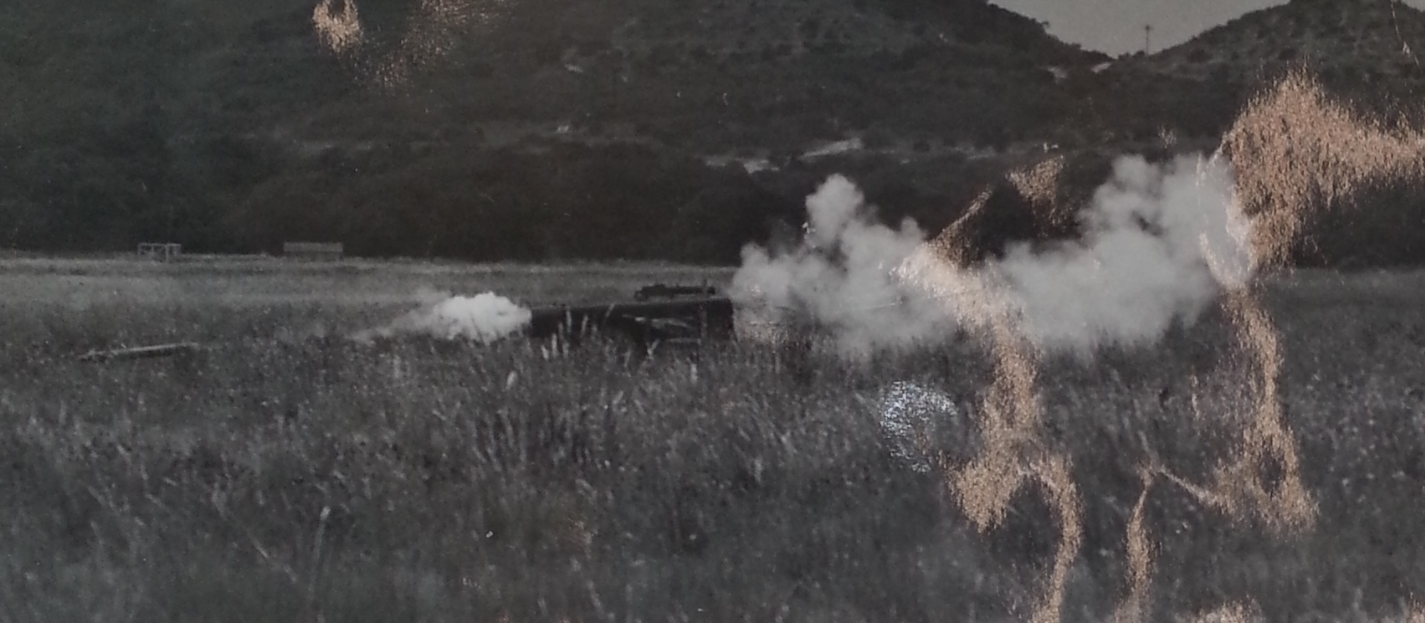 Subject: Antitank Weapon.
To: The.Adjutant General of the Army (Through Military Channels.)
1. After the Battle of France it was patent that no possible number of fixed antitank guns could stop a concentrated charge of a great number of tanks, and that if anybody was going to stop Hitler he would have to have a new weapon. I analyzed the situation for several months and finally concluded that if I could follow naval development of arms and armor on land I could devise a weapon which could defeat the tank as the torpedo carrying airplane has defeated the battleship. Such a weapon must have, like the torpedo carrying airplane as compared to a battleship:
a. Sufficient fire power to stop a tank.
b. Greater speed to catch up with or run away from a tank.
c. Greater maneuverability than a tank.
d. Greater numbers so as to attack the tank from several directions at once and thus disperse the tank's fire power.
e. It must presenta very minimum as a vulnerable target.
2. These factors so oppose each other that the race in tank destroyers, like the race in battleships, has ever been towardheavier guns, heavier armor and greater speed. It is probable that the limit along this line of development has about been reached. What is needed now is a wide departure, a departure as radical as the idea of the flimsy airplane attacking the staunch and powerful battleship. This paper proposes such a weapon.
3. Considering the opposing factors:
a. Sufficient fire power to stop a tank implies a heavy gun
b. A heavy gun of the conventional type implies a heavy mount, and this in turn implies a heavy vehicle.
c. A heavy vehicle is necessarily slow and has poor maneuverability; also, heavy vehicles take longer to manufacture and aremore expensive. Thus, fewer can be made. They are also large and present a sizable target.
4. Ever since the Battle of France I have been trying to conceive of a weapon having the desired qualifications. In June, 1941, I presented ideas up to that time at a conference on antitank defense to the II Army Corps Staff, Major General Conger Pratt presiding. General Pratt urged me to present my ideas to the War Department. I knew, however, that they were still green or half baked, and I continued to develop them to the present time.
5. I now believe that they are ripe enough to present. I have designed, in the course of the last two years, and, in the last two weeks, have built and fired successfully a tank destroyer carrying two four inch guns. It also carries one auxiliary .30 caliber machine gun to keep down the fire of the tank being attacked, and one Thompson sub machine gun to fire to the rear and at aircraft. The chassis is a stripped-down "jeep" (1/4 ton 4 x 4 truck). It carries sufficient armor for the protection of its crew of two men from .30 caliber fire coming from dead ahead, but no side or rear armor.
6. In explanation of the apparent impossibility of doing what I claim in paragraph 5 above, the following is offered:
a. The barrel of the coventional, large, high velocity gun capable of piercing tank armor must be heavy to withstand the high pressure. Its breech must be even heavier to house the breech block. Its recoil is great, hence a heavy recoil mechanism is necessary. Traversing and elevating also require mechanism that has great weight. From the above we conclude that a conventional gun for a tank destroyer is so heavy that it requires a large, heavy, and expensive vehicle to transport it, and that the requirements of paragraph 1 cannot be met with it.
b. I describe in this communication a low velocity gun, but one capable of stopping a tank. Its barrel is thin and light. It has no breech block. It has no recoil mechanism and it has no traversing mechanism. It has no elevating mechanism. It is so light that two four-inch guns can be carried on one "jeep." In regards to the conventional high velocity projectile, the force of set-back requires a thick well, which in turn cuts down the capacity of the void for the bursting charge. In the low velocity gun I describe, there is very little force of set-back to the projectile. The walls are very thin and the capacity of the shell is very high, so high, in fact, that it is not necessary to pierce tank armor. The detonation of the shell is sufficient to ruin the treads and pierce the side armor or upset the tank.
This very powerful gun, together with its projectile, is cheap to manufacture (probably not over $35.00 to $50.00). It can be fired with impunity from any vehicle, even one as light as a Model T Ford. Every command car, truck, and "jeep" in the army can be equipped with one or more of these guns. The possible effects on modern war of such immense and ever present fire power are left to the imagination.
7. Tactical Employment. As an orientation to a presentation of my conception of the proper tactics for the tank destroyer, Ipresent below a few paragraphs on hunting game.
a. Ducks and Deer. There are two ways to hunt ducks. One is to build a blind in a likely location where ducks trade to and fro. Here we make the surroundings as attractive to the ducks as possible. We put out decoys (of both sexes), we bait with their favorite food, we drive away predacious hawks. Then we get into our blind and wait for the ducks to come, which, being ducks, they do if they happen to be flying that way. If they happen to fly in some other direction we go home and hope for them to come tomorrow. When they do come we fire from concealment. The ducks are mystified. They do not know what it is all about, and keep on coming, flock after flock, until perhaps we get our limit and call it a day. We might call this the static method of hunting ducks. The second method is to go out on foot or in a boat, perhaps in the rice fields, locate the ducks at a distance, make our approach, using all available cover, until we are within range. Then we open fire. We can always get ducks in this way if there are any ducks around. We do not wait for them to come our way. We go after them. We might call this the active method of hunting ducks.
b. Hunting deer in the Carolinas is something like hunting ducks, but instead of decoying the deer we (to use a Leavenworth term) "canalize" them. The hunters take stations on stands located on existing deer trails or in defiles where the deer must pass. Then the hounds are released; the hounds bay and the beaters beat. The poor, bewildered deer rushes along his well known trail entirely oblivious to the lurking danger, and venison is the result. Other deer in the beaten area do not understand the system, do not know enough to turn aside; they take the same trails, and come to the same end. We might call this the static method of hunting deer. The active method is to stalk the deer and shoot him on sight.
c. Comparison of Hunting Game and Hunting Tanks. So far as I know at present, our tank hunting is limited to the static method. We place our anti-tank weapons in places we think would be attractive routes for enemy tanks--like we do our duck blinds--and wait for the tanks to come. But tanks are not ducks. Once fired on they no longer keep on coming. They immediately perceive what is up, and turn and hunt for a softer spot. Tanks will also turn and run if we try to canalize them unless they have overwhelming numbers. Also, if we are to try to canalize tanks we must remember that they are not poor, helpless, senseless deer. They can turn and run but they can also turn on the hunter and annihilate him.
d. Rabbit Drives. It is apparent, from the foregoing, that owing to the intelligence of man, our hunt for tanks must be of the active method, and it must be very intense. Let me suggest that it should have a similarity to the rabbit drives of Kansas. Here thousands of hunters assemble on the perimeter of the area to be hunted. All advance on the center. Rabbits trying to pass through the line of advancing hunters are shot. The balance are driven to the center and destroyed. Such a method usedagainst tanks would of course require a very large number of tank destroyers, each capable of maneuvering until a favorable chance for a shot was obtained. I believe that the tank destroyer described in this paper, if employed in sufficient numbers, saysix to each tank to be encountered, could hunt tanks successfully in this way.
e. Minor Tactics:  At the beginning of an action, and until dispersed, the destroyers should work in groups of six, two sub-groups of three forming a group, their object being to attack their target (one tank) from all sides simultaneously. This should also permit of flank support of one destroyer by another.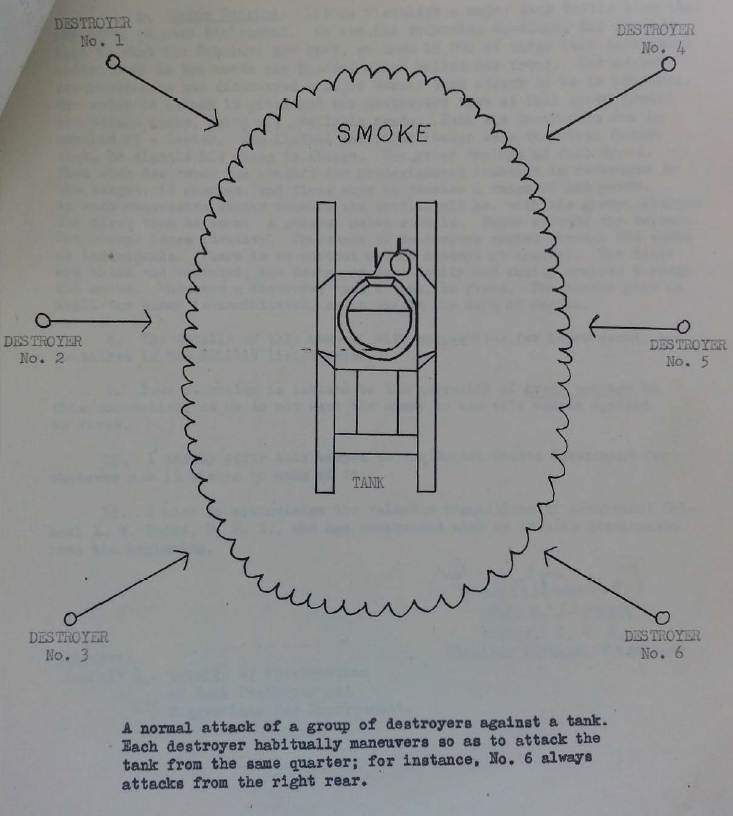 f. Smoke: All tanks are more or less blind, particularly in smoke. These tank destroyers are not blind. They do not interfere with vision in the slightest. Hence, it would be an advantage if their attacks could be covered by smoke. The four-inch guns they carry are amply capable of projecting smoke projectiles to a distance of several hundred yards, thus enabling the tank destroyers to approach their target under cover at all times.
g. Ranges:
(1) High Explosive:  In my opinion the range for high explosive shell should be limited to 100 yards. This will permit of a high percentage of hits together with a satisfactory degree of safety from our own shell fragments and from hostile fire. Up to date we have been making about 50% hits at this range on a full size tank silhouette on smooth terrain.
(2) Smoke Experiments indicate that we can obtain over 600 yards with smoke projectiles with no added strain on the jeep.
h. Major Tactics. Let us visualize a major tank battle like that now going on near Stalingrad. We are the defending Russians, but in addition to what the Russians now have, we have 10,000 of these tank destroyers hidden away in the woods one hundred miles behind our front. Our aerial reconnaissance has discovered a major German tank attack to be in progress. Our order to attack is given and our destroyers rush at full speed toward the German tanks, using all available roads. Each six destroyers are in command of a leader. The instant the first leader sees the first German tank, he signals his group to charge. The group deploys at full speed. When each destroyer has reached its predesignated location in reference to the target, it charges, and fires when it reaches a range of 100 yards. As each successive leader reaches the battlefield he, with his group,charges the first tank he sees. A general melee results. Smoke shrouds the terrain. Our groups loose identity. Thousands of destroyers cruise through the smoke as individuals. There is no control and no attempt at control. The tanks are blind and confused, the destroyer sees easily and easily cruises through the smoke. Whenever a destroyer sees a tank, he fires. The battle goes on until the enemy is annihilated, as it was in the days of Joshua.
8. The details of this weapon, with suggestions for improvement, are contained in the Exhibit listed below.
9. Your attention is invited to the necessity of great secrecy in this connection, as we do not want the enemy to use this weapon against us first.
10. I hereby offer this weapon to the United States Government for whatever use it wishes to make of it.
11. I wish to acknowledge the valuable suggestions of Lieutenant Colonel A. W. Paine, C. W. S., who has cooperated with me in this development from the beginning.
Well, so far, one isn't entirely sure what to make of it. The idea of massed, mobile tank destroyers to deal with the German panzer machine certainly had merit, indeed, it was the foundation upon which the Tank Destroyer doctrine was founded. The issues of cost and weight are also well-taken: Tank Destroyer Branch was trying to find lightweight, fast vehicles, and cost was of great importance in the War, even though many people will overlook this. I'm a little less convinced by the concept of a car attacking from the same quarter every time:  He already admits that there is no command and control likely in the confusion, and he wants these little guys co-ordinating their attacks. Plus, what happens if the tank happens to make a 90-degree turn? And he torpedoes much of his own hunting analogy by admitting that Germans are not as stupid as ducks. Still, perhaps these are minor flaws. Let us move on to the technical description.