[-DIG-] Diggers of Gold
Clan Commander:  xpAiNFuLLx
http://na.wargaming.net/clans/1000022085/
Are you looking for that friendly clan?  Tired of the same old advertisements of clan recruitment?  Me too, so I better jazz this post up to draw your interest.  
What's the hot new clan out there?  [-DIG-] ! Yes, Gold Diggers, this is a clan that LOVES to dig for gold. They are passionate about tournaments and WINNING and they do WIN and they DO earn gold!
I have been a guest of this clan and I'm giving it serious consideration to join myself, but in the meantime, I am here to toot their horn because I am very impressed with what they are offering to the World of Tanks community. This is truly one pleasant, fun and friendly community.  Its so refreshing to be in a Teamspeak channel with these people working together in a battle, laughing and learning together. Maybe they are not the best of the best, but together they are quite the force of a working team and pull off some pretty damn awesome victories.  I'm telling you, this is the clan to check into and they have one fantastic Commander as well.  Dump those horror stories of bad clans and come have a look and just 'dig' into the fun and the GOLD! (pun intended)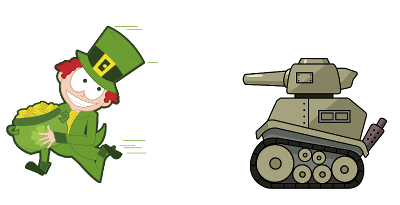 Here's what they are interested in as requirements:
1. Minimum of 1200 Wn8 and 50% average.
2. The clan's recent average is 1400 and 52.5%.
3. Our clan mostly runs platoons, offers training, and competes in Strongholds.  We love tournaments!
4. We also run Team battles and have guest mentors/trainers from some of the top clans (like Vilin/Otter) in WoT.
5. Did we mention we LOVE gold? Yes, we're into tournaments and we do win gold!
LEADERSHIP POSITION OPENINGS:
We also have some leadership positions open, so if you are a team leader and have the time, 
please inquire about these roles.  We would be interested in acquiring more callers (Combat Officers) into our clan as well, especially for our tournament teams.
Male and female players welcomed. Yes, there are females in this clan, so ladies, come join us.
We also have a second clan.
-D1G-
Our occasional diggers of gold. This clan is for those new to the game that want to learn the game
mechanics. We offer mentoring and training to these clan members who are newer to WoT, and help bring their game play up to par.
REQUIREMENTS:
A good attitude and a willingness to learn. We want Team players who are dedicated to the group as a whole. 
<---------------------------------------------------------------------------------------------------------------------------------------->
UPDATE:  I have joined this clan. Awesome clan and placing a few updates of current requirements they are looking for in players.
We only have one or two slots open, but always are keeping our eyes on possible prospects so contact us if you are interested.
We're looking for either one of the following:
1500+ WN8
or
1300+ WN8 with a minimum of 1600+ recent WN8.
 
Edited by Ravyen, Jan 15 2016 - 06:21.