So I got into another discussion with a clanmate last night, and they were complaining again about Warpacking cheaters and how they were tired of getting shot by invisible tanks. I tried briefly explaining the vision mechanics, but you could tell they weren't getting it. I decided it was time to revisit this topic (been a while since I've seen it pop up on the Forum) and try to cover some of the vision basics. Just understanding these points raised my game almost 400 overall WN8, my recent by 1000 WN8, and my W/R by 2% within the past 2k games.
Please note that while this isn't math heavy, it is concept rich as spotting is a complex topic. This doesn't hope to explore it in depth, just give a newer player an easy to read guide on how to stay alive longer!
Spotting Mechanics for World of Tank noobs!
So you just broke out that shiny new tank, drove your hunking metal monster out into the fray and started taking shots from nowhere… *whizz, BOOM* Your tank is now a tin-can junk heap and you're cursing those L337 H@zzors using Warpack shooting through building and mountains.
But, consider just for a second… What if they weren't cheating? What if instead they knew something about the game you didn't and used it to shoot you before you can even see them?
Vision Mechanics:
In World of Tanks, tanks are subject to a "Fog of War" in which they do not appear on your map or screen unless someone has spotted them and will fall off if not actively being spotted.
All tanks have a View Range, which is the theoretical maximum distance that your tank can see an enemy tank. This varies tank to tank, but is typically low for Heavy tanks and Arty, and higher for TD's, Mediums and very high for Light Tanks. Maximum for this is currently unlimited, out to the draw range.
Then you have Spotting Range, which is the maximum range at which your crew will see an enemy tank and note its location. Once an enemy tank is in range, your Radioman will pass this information on to friendly tanks, and also received similar reports from friendly tanks. At 50m, you can "hear" the enemy tank, so it'll light up even if you can't actually see them. You can use this to safely spot around a corner. This can be a fuzzy number because while you might have a really good view range, they have camo working to keep them hidden, more on that later! You can end up with a number higher than 445m, but all this does is work to defeat camo faster, you won't spot someone past 445 meters.
Not to muddy the waters, but there's also a Draw Range, currently implemented as a box 500m square around your tank in which any enemy tank will be rendered in the game engine if it's spotted, by you or an ally. This will be changing in release 10, which will convert this into a circle 500m radius from your tank.
Spotting:
Spotting an enemy tank is simple, they have to be within your spotting range and one of your tank viewports has to make a direct line contact to a visibility checkpoint on an enemy tank. Think about it like your view range ports have a laser pointing out from it (in all directions), and if it "hits" a Visibility checkpoint on an enemy tank and comes back, that tank is spotted
View Range Ports: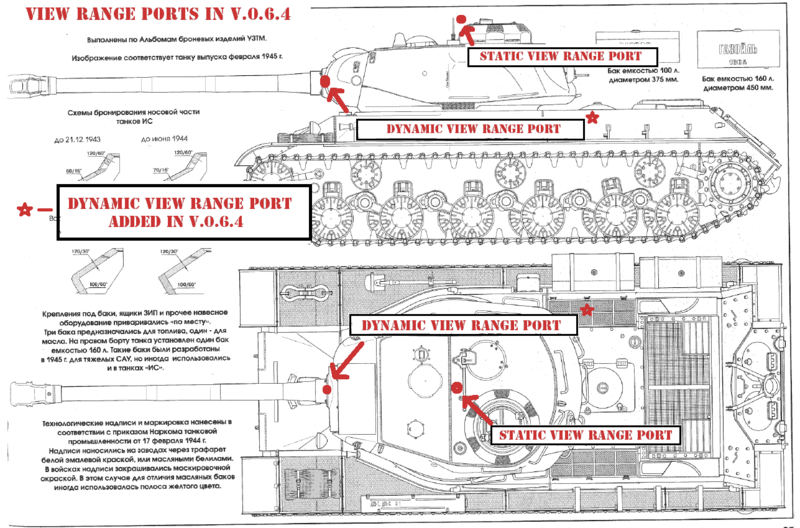 Visibility Checkpoints: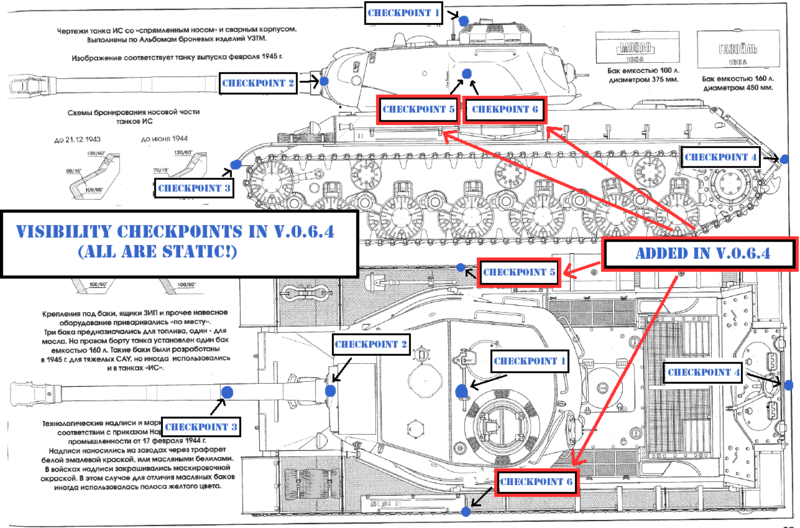 Now this assumes no hills, bushes, and the tanks are within range of each other. Different tanks have different view ranges and equipment, training, camo, viewport damage, etc.
Distance:
Distance also has an effect on this as well. Since is game is played online, the Server is responsible for passing information on spotting down to the game clients. As you move your tank around the map, the position information is getting passed to the server, and it's using those viewports to draw "vision" rays in a circle around your tank and checks if you can spot an enemy tanks visibility points. Since real time processing of all this data for every tank in-game would be very data and processor intensive, it only check every second or so, with increasing duration at longer ranges.
According to World of Tanks Wiki article: (http://wiki.wargamin...attle_Mechanics)
within 50 m range - every 0.1 sec
within 150 m range - every 0.5 sec
within 270 m range - every 1.0 sec
within 445 m range - every 2.0 sec
This means that at longer ranges you can move out from concealment and still remain hidden for a second or two, making it possible to cross a gap without taking instant return fire. Don't try this at shorter ranges, as they'll light you up and plunk a shot in your tracks or engine deck (both bad!)
Getting unspotted:
The game will keep you spotted for 5 seconds after starting to fail additional vision checks, which means something is breaking that vision connection, like a building, cliff, or camo/bushes. This mechanic makes for a great way to back up, reload, and wait to get unspotted, then pull back up and fire at the last known position of the enemy tank. People have a bad habit of not moving from their last position, so blind firing can often lead to a hit! There's also a skill for your Gunner, Designated Target that will keep an enemy tank lit for up to an additional 2 seconds if you're holding your reticle on them.
Camouflage:
So, while you're trying to spot enemy tanks, they are trying to hide from you. Camouflage is implemented in game as mechanism that essentially defeats your vision checks by decreasing the range which the enemy tank can be spotted by you. Camo paint and the Camouflage crew skill increase this ability. Some tanks naturally have really good ratings for camo, so they can get really close before you spot them. Other tanks, like the Maus, well, it's big, grey, and shaped like a barn… It's going to be visible from a long way off!
Camo has three ratings, sitting still, moving, and after firing. It stands to reason that if you're moving, it's easier to spot you! And since guns when fired have a tendency to belch smoke, fire and loud noises, which will all get your tank spotted easier!
Some tanks have a natural advantage though, light tanks for example maintain their camo rating while on the move, and so while they are weak in terms of HP and armor, they can move about (mostly) unseen on the battlefield. Smaller tanks and TD's also typically get better camo ratings, while big tanks have terrible camo...
Natural Camouflage:
So what about Mother Nature? Hills and buildings will offer you protection, but they also defeat your vision checks. Bushes do so as well, but they are become transparent when close enough, meaning you can see partially through them if you get with 15 m of them. How big the bush is and how far you're parked into it will offer you more or less camo and also control if you can see through the bush. If you're 15m away from a bush, you cannot see, or be seen through it. A nice trick to use here is to wait in a bush to spot or for friendlies to spot up the enemy, and then pull back away from the bush past that 15m line and fire… Remember, they stay lit for 5 seconds! Your cannon fire will be invisible to the enemy, and they'll be wondering where that shot came from! Also, you can use that trick to your advantage, if you're in a light or medium tank, you can spot the enemy and let your Heavies and TD's take the shots. You stay unlit and get spotting XP, and the enemy crumples in a pile of twisted metal without even knowing how they got spotted!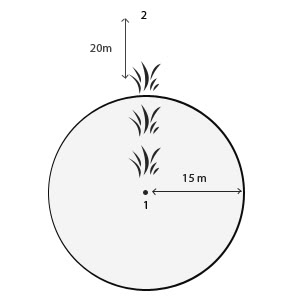 Vision Kiting:
An advanced vision control method where you realize that your tank simply has better view range and camo than an opponent. You stay off within your spotting distance, but yet outside of theirs, and you're got free range to fire as much as you want. The top clans use this technique with highly mobile tanks with excellent view range (such as the T37, or Cromwell) to win Stronghold and Tournaments (and make everyone decry them as hackers), as people literally can't see what is shooting them.
Radio Range:
But wait there's more! Remember how we said your Radioman is busy passing information on to your buddies? If they've spotted someone, and they are within your draw range, but not necessarily in your spotting range, you can still shoot a lit up enemy tank and they'll never even know you were there! In that manner you're basically chaining together your teams spotting circles and keeping the enemy under observation the entire time.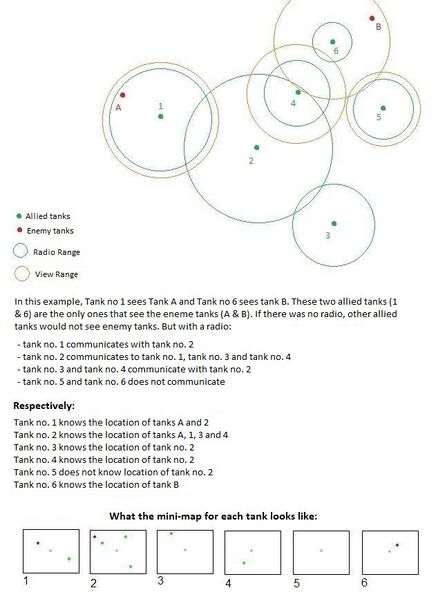 Six Sense:
Then your commander has one really great game changing skill, the shiver he gets on the back of his neck when someone sees your tank. This does come with a 2 seconds delay from when you're spotted until he knows about it. This is quite simply a game changing skill, you move from suspecting that the enemy might see you and hiding all the time, to simply knowing that a little drive across the plain is safe because no one is covering it as you were unspotted when you did a vision check on it... It also lets you know to take evasive maneuvers before a Waffle or Arty decides you're a tasty nibblet to waste a couple rounds on…
Here's a really great link to exploring the math behind it all, and seeing how/when you'll spot someone:
http://www.wotinfo.net/en/camo-calculator
TL-DR? It's hard to explain simpler as there's a lot going on... Try re-reading it with a more open mind!