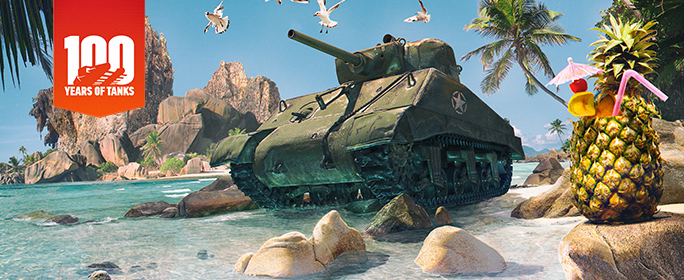 The Summer Play tournament is a multi-day tournament lasting the  final two weeks of July . Teams of five will fight their way through three days of group stage, with only the top teams moving on to a single elimination playoff bracket! By the end of the month, there will only be one Champion of the Summer Play tournament. What does the Champion get, other than glory and e-fame? Each player will walk away with 10,000 gold and the chance to battle a team from Wargaming America! If that team manages to defeat WGA they'll get a special prize !
Basic Tournament Information 
Please see tournament page each day for detailed information information
Team Size: 5 combatants + 2 reserves
Map: Steppes
Mode: Encounter
Max Tier Points: 38
Tier Limits:

Light: Tier VI
Medium: Tier VI
Heavy: Tier VI
TD: Tier VI
SPG: Tier VI
Prizes
The following prizes will be provided to each member of the respective teams.
Face WGA! Prize
| | |
| --- | --- |
| Champion | |
*Special restrictions may apply
Playoff Prize
| | |
| --- | --- |
| 1st Place | |
| 2nd Place | |
| 3rd Place | |
| 4th Place | |
| 5th - 8th Place | |
| 9th - 16th Place | |
Group Stage - based on final standing after all three group stage days
Top 16 team

2-hr 50% Credit Personal Reserve
2-hr 50% Experience Personal Reserve
2-hr 300% Free Experience Personal Reserve
2-hr 200% Crew Experience Personal Reserve

17th Place - top 25% of teams

2-hr 25% Credit Personal Reserve
2-hr 25% Experience Personal Reserve
2-hr 200% Free Experience Personal Reserve
2-hr 100% Crew Experience Personal Reserve

Top 26 - 50% of teams

1-hr 25% Credit Personal Reserve
2-hr 15% Experience Personal Reserve
2-hr 100% Free Experience Personal Reserve
4-hr 50% Crew Experience Personal Reserve

Top 51 - 75% of teams

4-hr 10% Credit Personal Reserve
4-hr 10% Experience Personal Reserve
4-hr 50% Free Experience Personal Reserve
4-hr 50% Crew Experience Personal Reserve

Schedule
Round
Date
Time
Group Stage Day 1
Monday, July 18
18:30 PT / 21:30 ET
Group Stage Day 2
Wednesday, July 20

18:30 PT / 21:30 ET

Group Stage Day 3
Friday, July 22

18:30 PT / 21:30 ET

Playoff Round of 32

(if needed)

Sunday, July 24

16:00 PT / 19:00 ET

Playoff Round of 16
Sunday, July 24

18:30 PT / 21:30 ET

Playoff Quarterfinal
Monday, July 25

18:30 PT / 21:30 ET

Playoff Semifinal
Wednesday, July 27

18:30 PT / 21:30 ET

Playoff Final
Friday, July 29

18:30 PT / 21:30 ET

Face WGA!
Sunday, July 31
18:30 PT / 21:30 ET