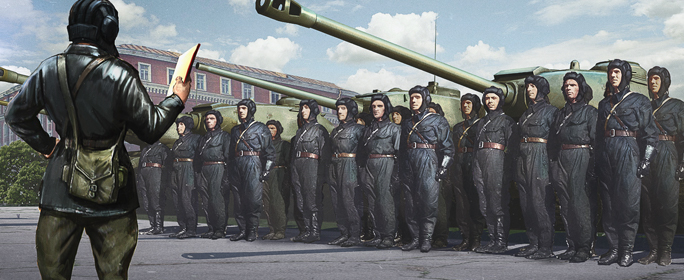 ...
Recruitment Video
What better way to find new tankers than with a video! The video can be goofy or serious, but it must be geared towards getting new players into your clan.
This contest is geared towards old and new clans - you don't have to be actively looking for new tankers to make the recruitment video!
How to enter
All video's must be posted in this forum thread with the following information

Your Clan name
Link to Youtube video / embedded Youtube video

Player may edit the video until the entry deadline. Any changes made after that deadline would make the video ineligible to win a prize.
Contest Rules
Clans may submit multiple entries; however, only one entry per Clan will be eligible for prizes
Recruitment videos must be uploaded to Youtube and can be no more than 5 minutes long
Videos must be made for this contest
Videos must adhere to the Game Rules and Forum Rules
Entries will be judged on creative, quality and adhere to the contest's theme. This will be determined by WGA Staff
Entries for this contest must be placed in this thread
All entries must be submitted by August 19th at 5 pm PT / 8 pm ET
Winners will be announced by Wednesday, August 24 at 9 am PT / 12 pm ET
Prizes (to Clan Treasury)
Place
Prize*
1st

8,000 gold
3,000 Influence
8,000 Industrial Resources
3 Clan Combat reserves**
3 Tactical Training reserves
3 Additional Instructing reserves
3 Military Exercises reserves

2nd

6,000 gold
2,000 Influence
7,000 Industrial Resources
2 Clan Combat reserves
2Tactical Training reserves
2 Additional Instructing reserves
2 Military Exercises reserves

3rd - 4th

5,000 gold
750 Influence
5,000 Industrial Resources
1 Clan Combat reserves
1 Tactical Training reserves
1 Additional Instructing reserves

1 Military Exercises reserves

5th - 6th

3,500 gold
500 Influence
4,000 Industrial Resources
1 Clan Combat reserve
1 Tactical Training Reserve
1 Additional Instructing reserve
1 Military Exercise reserve
*Additional prizes may be awarded, depending on the final number of valid entries.
**Reserves will only be added if the building allows it. No replacements if a clan does not have the correct building.