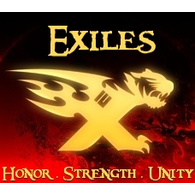 EXILES
Currently Seeking Members & Small Active Clan Mergers
Website: http://www.exiles1.com/
TS3: 167.114.60.253:9740
Wargaming page: http://na.wargaming....wot/1000021019/
This is a TS3 Using Clan who have the enthusiasm  to be competitive with a hell of a lot of fun.
This is a  Clan Wars, Stronghold, Platooning and Tourney Clan looking for same minded personnel.
What we are looking for:
1. TS using Personnel
2. Members that can listen to callers and be situational aware
3. Can be active and contribute to the clans success
4. Members that know the meaning behind calls like Focus Fire, Pushing and have the winning attitude
5. Must know how to play your tanks
6. 0 Drama Individuals 
7. PR of 5-7k 
What we offer:
1. True open door policy to all of our members
2. A everyone plays policy so the whole clan succeeds not just a few
3. Gold payouts when earned from Clan Wars and Tourneys
4. A active TS3 so you dont have to go at it alone
5. A great Website filled with information that can help you to be successful
7. Nightly competition to keep you on your toes
8. Great funny individuals whom have the right personalities for a very fun time 
9. 80% 7 day activity across the board 
10. A no drama atmosphere 
11. Top 100 Clan on NA server
Clan Merger Offer:
1.Rank will stay intact except CO position
2. Able to play with active competitive group looking to succeed, 97% active clan you will merge into.
3. TS3 and great website at your disposal
4. Get ready for Season 7 Clan Wars and daily strongholds and events happening 7 days a week
5. Great mixture of members and cultures from around the world
In this Clan we want to climb up the ranks, we want to be competitive in everything we do,  and have a great time doing it

We want Exiles to be the last clan you join 
.
We will strive to make sure the needs of the clan are met and you feel like we are here to help you and the clan grow and be successful.
If this is something your looking for come visit us on TS3: 167.114.60.253:9740

or visit our forums: https://Exiles1.com
PM me here or in game
Thanks for your time, see you soon.