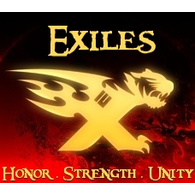 EXILES
 
Exiles is a competitive clan looking for active TS using members who want to succeed
What we offer:
1. Active members who seek to be successful 
2. TS and forums for all your communication needs
3. Rigorous clan events nightly ( Strongholds, Clan Wars, Tourneys )
4. A great fun atmosphere with members who enjoy a great time
5. Great leadership that goes beyond whats needed to have a successful clan

What were looking for:
1. Active 3-4 days a week and contribute to clan events
2. Must use TS while in game
3. 5K battles with 49% WR and 1200 W8
4. Able to listen and execute calls given 
5. Have multiple Tier 10s and 8s and be ready for CWs
Also looking for experienced callers who know map tactics and can call tier 10 and below.

We seek members who want to rise to the call and help Exiles move forward
Please apply only if you can contribute and be part of a team
Apply to www.Exiles1.com or visit us on TS let's chat about your future
Thanks