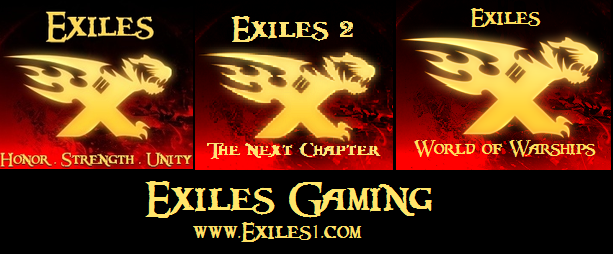 Exiles Gaming is currently looking for new members to expand its future in World of Tanks
Exiles Main is looking for more Veteran players looking for the competitive side of World of Tanks, we are looking for the players who want to contribute and excell forward with teamwork and heart.
Current Requirements for Exiles Main is as follows:
1. Recent WR of 48%
2. Recent W8 of at least 1000
3. Able to use TS while in game and Clan functions 
4. Must have at least 2 meta tier 10s
Exiles 2 is currently seeking all players looking to be more social to competitive 
There are no current stat requirements for the clan, we do ask that you use TS while in game 
For more information please contact any officer or member
Visit us on TS @ 167.114.60.253:9740
Checkout our Website @ http://www.exiles1.com/
See our clans pages @ http://na.wargaming....wot/1000021019/ for Exiles Main and http://na.wargaming....wot/1000051145/ for Exiles 2
Stop on by we do Clan Wars nightly, if no CWs we do Strongholds and Advances nightly.
Come stop by.