"Mr. Gorbachev, tear down this wall!"

We're running some special missions between Nov 1st ( 04:20 PT | 06:20 CT | 07:20 ET) and Nov 9th (same timeframe)  to commemorate the 30th anniversary of the historic date of November 8, 1989 - which set in motion the turn of events that led to the destruction of the Berlin Wall.

Each completed mission translates into a virtual 'shot' at this fancy graphic of the Berlin Wall on the article, which will get visually updated as the event goes on. 

The event features extra missions for owners of the M48A2 Raumpanzer, the mighty new German Patton variant with an epic snow plow attached to the lower glacis. For a list of M48A2 bundles, check out the M48A2 Article on our news portal. 
Owners of the M48A2 Rpz can complete additional missions for the Berlin Wall event and earn a commemorative "Looking for Freedom!" Medal to show off on their Service Records.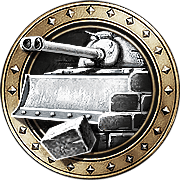 For a complete list of the missions, as well as the fancy Berlin Wall graphic/shot counter, head over to the Berlin Wall Missions articleon our news portal.