This is it. With the increase in E100 Whine and UP cry threads popping up lately- I have decided to completely remodel my Tutorial/help thread on this tank. It will include tips, tactics, diagrams, statistics, actual historical information, and finally once I have them uploaded, I will include a sample of tutorial videos showing tactics in play. Now I know I am not the best ranked player, but despite my owning all of the T10 tanks but the Maus and AMX 50B, and despite my better results in other T10 tanks, this remains my favourite to date. Maybe its sentimentality, but I WILL NOT let my first Tier X tank gather rust in my garage.
Historical Information
the following information is taken from Wikipedia, which is referenced from WWII History books:
Quote
The basic design was ordered by the Waffenamt as a parallel development to the Porsche Maus in June 1943. It was the heaviest of the Entwicklung (E) series of vehicles, meant to standardize as many components as possible.
In November 1942, Krupp suggested a design weighing 155 tons, compared to the 188 tons of the Maus - but still using the Maus turret. In December 1942, Krupp suggested a design weighing 130 tons which used many of the same components as the Tiger with Maus turret — referred to as the Tiger-Maus. Weight savings were to be from thinner armour, and narrowing and shortening the vehicle.
Despite the vehicles alleged advantages to the Maus, which can be seen by comparing the Maus technical data table to that of the E-100, Hitler decided to go ahead with the Maus on January, 1943. There is no apparent explanation to this, but possibly, Hitler did not like that Krupp designed a vehicle by themselves when another company already had the contract. Although Hitler favored the Maus, Oberbaurat Kniepkamp obtained permission from Waffenprüfung 6 to go ahead with the Tiger-Maus, renamed to E-100, as a part of the Entwicklung series. There were some modifications to the original design, such as mounting a double external coil spring suspension. The Maus turret was still to be used.
This is a game changer tank, and Krupp himself believed this when he named the whole series of standardpanzer tanks the Entwicklung series, which can be translated into either Evolution or Development. This is German tanking evolved.
Garage Photos
Oberleutnant Frederick Engelhardt is happy to show off his tank to all you rookies out there and point out some of the tanks spots to watch out for:
http://marvgaming.or...0
revised 1.jpg
http://marvgaming.or...0
revised 2.jpg
http://marvgaming.or...0
revised 3.jpg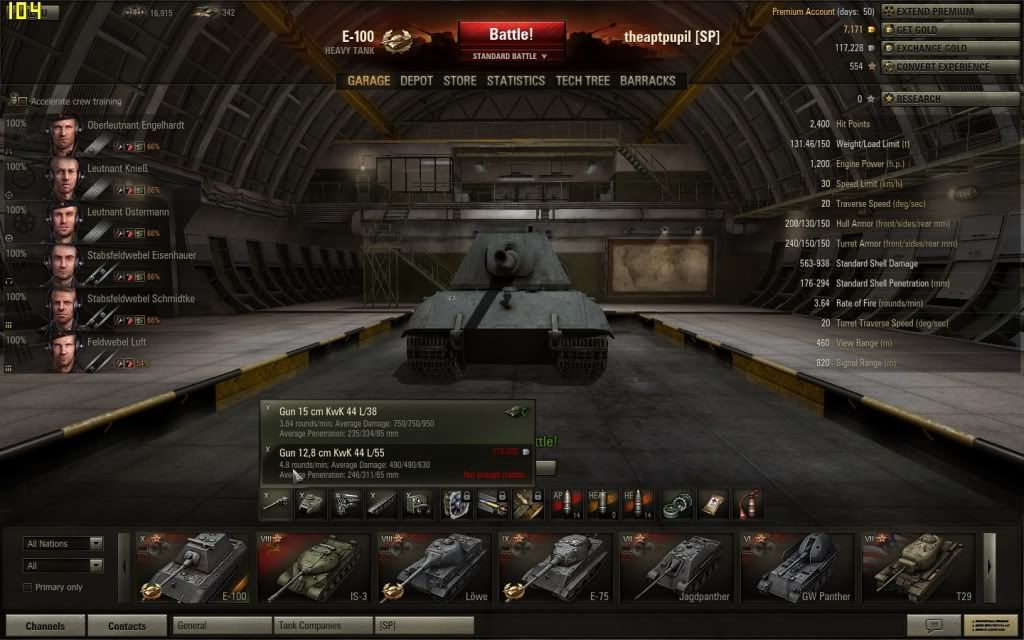 and here is the statistics of the various types of ammunition for the 150mm KwK43 L/38.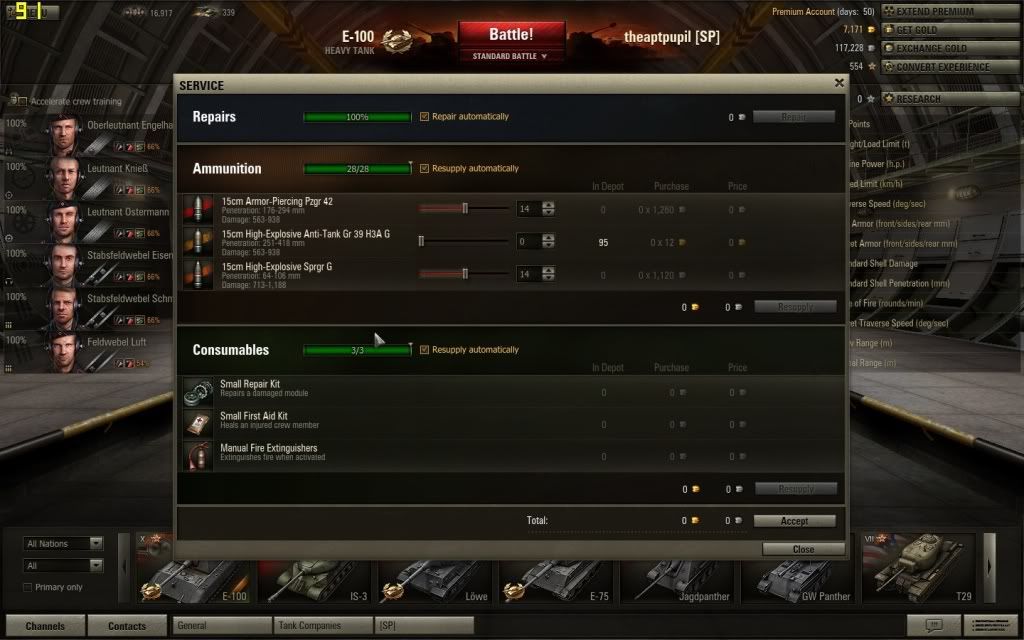 After the AP and HE nerf, the 150mm took one hell of a hit in combat effectiveness. Now you need to concentrate on your aim, observe where your shell lands and make a mental note of penetration. Turning on the in-game markers will help you understand the kind of damage this tank deals. In most penetrating shots, I am dealing over 700 damage, and most of the time less than 900 with AP. with HE, I am almost guaranteed to do some kind of crew or module damage, but only 200-400 damage since I can not longer penetrate as much.
As for HEAT shells, while they give higher penetration to most tanks, in a CW setting, I have found that you have to use the same tactics with AP in public matches to get the same results, so I only keep them because in CW battles- I find that my money making can be somewhat diminished with my fellow clan members working with me well
Equipping your Tank
Well I personally chose the Rammer, vents, and spall liner for this. this suits my tactics well, as I almost never shoot without taking a couple of seconds to aim, and rarely shoot on the move. There are now skills/perks that make up for not having a vertical stabilizer, so I try to focus on explosion and ramming protection while boosting my reload as much as possible without gold food
Armour angling
without going into any mathematics, the simplest way to angle your armour is to put the front corner that reveals as little of your lower glacis as possible, and to show a little side if you have to. Tier X guns will have no troubles penetrating your lower glacis at almost any effective angle, but most shots to the seam tend to scrape along the upper hull, and the side skirts work just like spaced armour, so try being a little flirtatious in battle.
Crew Skills
Well the first skill you should ALWAYS research and complete without fail is the repairs. I did a bit of experimenting since the 7.2 skills came out, and have finally settled on doing the B.I.A perk second to complement your ventilation, boost accuracy and reload time, as well as give you better odds of keeping enemies lit up on screen for your allies or artillery to assist you. Being a German tank, the next 3 perks you should focus on for each crew member should be Jack-Of- All- Trades, Deadeye, Smooth Ride, Situational Awareness, safe Stowage, Preventative Maintenance(that should be done before Smooth Ride in my humble opinion), and Intuition. It will take several hundred games, and you will be further slowed down if you did what I did and retrained my crew from my E-75(retraining my Löwe crew into my E-75) as you have 2 loaders in the E-100. Having the second loader doesn't boost your load time in any real way with the 128mm gun, but you certainly notice the reload speed dips without him. This is why the Jack of All Trades comes in handy
General game strategies
This is the second slowest Tier X tank in the game, has worse acceleration than the Maus, due to a pretty mediocre HP:Tonne ratio, but it still can be very versatile when you put enough patience and effort behind this tank. Try to use small slopes and hills rather than the steep ones in this tank, because you will be pushing it to go any faster than 12Kph up hill, and never back up a hill to the point where your gun is working at its highest elevation when you are cornered, as you only create a new weak spot for the veteran player to hit. Always be driving with support, and use your massive HP count as well as your side skirts to draw fire and offer allied support when possible
Another strategy is something that I see a lot of E100's attempt, and sometimes it works, sometimes it fails. It is best when your team have either died off or abandoned you, and its something I call "the bully". Using your E100 as an extremely offensive tank.(no- that doesnt mean you can go out and drop a flurry of slang language about the enemies mother or younger sister's sexual habits). The KwK44 L/38 can deal out MASSES of damage, much like the T30, but when you use your armour angling, you can potentially hunker down and take out 3 or more lower tier tanks that are trying to pound you into the ground. The essence of this strategy involves you picking a time and weak spot, shooting it, watching the 650-900 damage dish out, then effectively watch all of your enemies back off. Do not just let them sit there. you need to keep up the pressure. You are a freaking heavy tank with decent acceleration. use this while your reloading for extra damage. I can ram an IS-3 for over 200 Hp at a 17-22 Kph ram. with the spall liner equipped, you will NOT take any damage for ramming lower tier tanks, but they will. The aggression will affect the other player psychologically and youll see him doing everything but turning tail and running to try and get one in on you. By ramming and face hugging your opponent, you are also doing 2 things: 1) your making it impossible for them to shoot your lower glacis, and too close to get a reliable hit on your turret "face", and 2) hiding your lower glacis from other tanks.
Notice how you cant actually see the lower glacis of my tank, but you can clearly see the gun? Use this. Also in that game that I have used for in- game screenshots, my 2 kills were both the Maus and T95. just a little tidbit of information for you. I didnt screenshot the victory screen though, because aside from achieving daily double, I didnt actually do anythign that I consider outstanding to warrant screenshot.
Edited by theaptpupil, May 13 2012 - 21:33.