77th Armored Division recruiting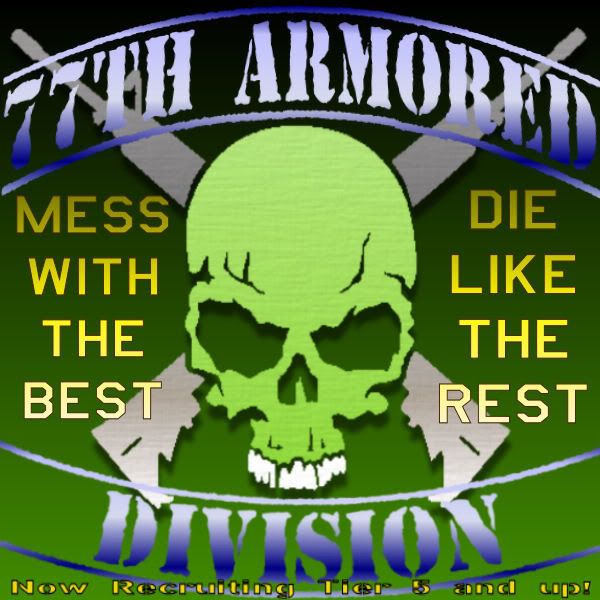 We are recruiting new members tier 5+ we are gearing for clan wars. Feel free to contact any of our officers or recruiters in game at any time.
I really want to point out if your really gearing up for clan Wars. Given the average time frame for people leveling to t10. you might want to look at setting the bar for a tank at t 9.
we know what were doing rob... we have enough to do clan wars now but were still looking for people just in case those members are not on.
77th Armored Division
Now recruiting tier 7+ tanks and tier 6+ arty, Must be age 18+ to join. If you have any Questions feel free to contact any of our clan officers.
Anyone that is interested in joining please send in your apps, All members must be active and willing to use teamspeak ( no need to talk just be able to hear).
Have room for two?
We have tier 4 to 7 tanks.
We would like to join a clan that is not harsh on their players.
We just like to have fun, chat, and get to know the team that we are in.
Neither one of us has team speak or a mic
(mostly because of family - kids sleeping in, gotta be quiet).
Thanks. Have fun and see you in battle.
Chic7mun7
join in on the fun just send in you apps
If any one has any ? please feel free to msg me and i will answer them as soon as i can.
We are looking for active members, and i mean

Active

members. We need players that are willing to be on for clan wars it least 5 nights a week. I f this sounds like it might be a fit for you please feel free to send in an app, or you can contact me.
guess ill bump this back to the top
Join in on the fun we are fighting in clan wars each an every night
cr3al
Aug 31 2012
I got a E-100, still need some practice with the weakspots since it has poor pen. 19, have TS3, very active (pacific timezone).